Although a ride on a jet ski at Pattaya beach is a scam-prone adventure, most tourists find this ride too thrilling to resist. And for those who do not want to ride it by themselves, there is the option of letting the jet ski owner do everything while the tourist sits behind, holding on to dear life. The thrill is still the same, and as an added bonus, no one gets scammed.
I am not suggesting that pillion riding is better or worse than riding a jet ski yourself, it is just that different people may find either of the options more acceptable. Anyway, in this short article, I will share the pricing information of jet ski and banana boat rides in Pattaya. Prices change according to the season and demand/supply factors, so, do not be alarmed if more or less money is actually demanded from you.
Jet Ski Cost In Pattaya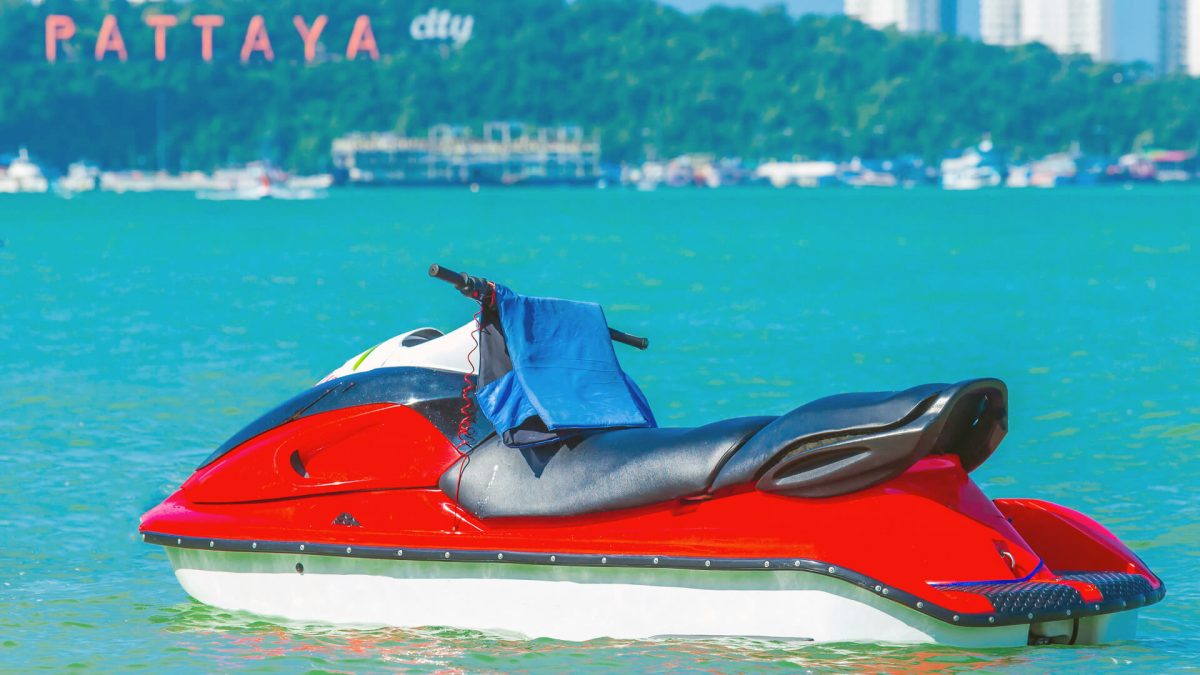 A jet ski ride in Pattaya costs 500 THB for 10 minutes, whether for self-riding or going with the owner. The final price depends on whether you get blamed for causing some imaginary damage to the vehicle and if any money is extorted from you. There, I explained the jet ski scam in the least possible number of words.
If you are worried about the scam or do not know how to handle a jet ski, it is better not to ride alone.
Banana Boat Cost In Pattaya
A banana boat is an inflatable boat which is towed by a jet ski. Therefore, this boat can go as fast as a jet ski, at least theoretically. The cost of a banana boat ride in Pattaya is 1200 THB for 30 minutes, and the cost is per ride, not per person. From the image above, I am guessing that a total of five persons can ride a boat at a time. Considering that, for tourists in a group or as a family, a banana boat ride can be both thrilling and affordable at the same time.
You may even try bargaining a little, when there is not much crowd on the beach. But again, I wish to say here that if you are planning to ride a jet ski, try to be nice and not offend the owners. That way, they may have mercy on you and scam you only for small money.
Please don't hesitate to share your experience, or ask for more info using the comment form below. I will be happy to respond.
Related YouTube Video: https://www.youtube.com/watch?v=JgXyRz8xFts