If you are arriving at Bangkok's Suvarnabhumi Airport, and need to know about the availability and other details of public taxi, this article is for you. You will learn about the timings, fares, airport surcharge, location of the taxi stand, taxi queue system, short-distance and outstation taxi, and the Public Taxi Service Center. Let us begin with the availability of meter taxi.
Availability of Meter Taxi at Suvarnabhumi Airport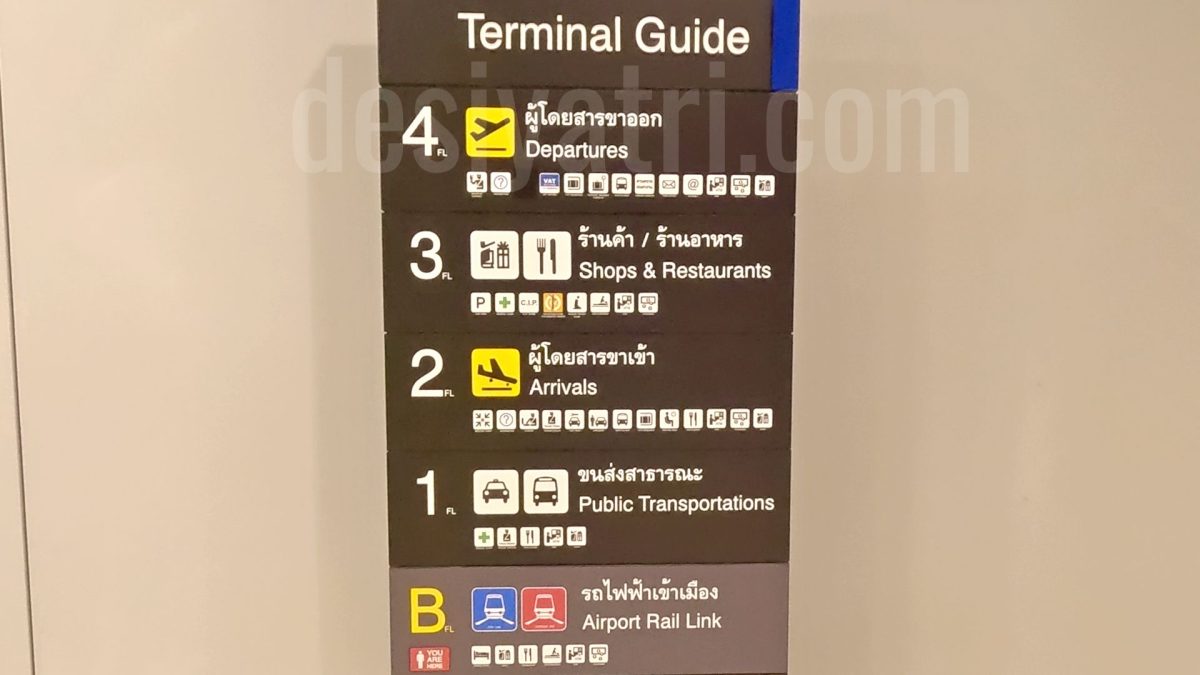 If you look at the Terminal Guide, or the floor plan of the airport in the picture above, you will see that public transportations are available on Level 1, which is the ground level. That is where you come to catch a meter taxi. Specifically, when at Level 1, exit from gate number 4, and you will be very close to the taxi queue.
Meter taxi is available at any time of the day or night, and there is no difference in the day or night fare. In other words, you pay the same fare, as indicated by the meter, regardless of the time when you board the taxi.
Meter Taxi Airport Surcharge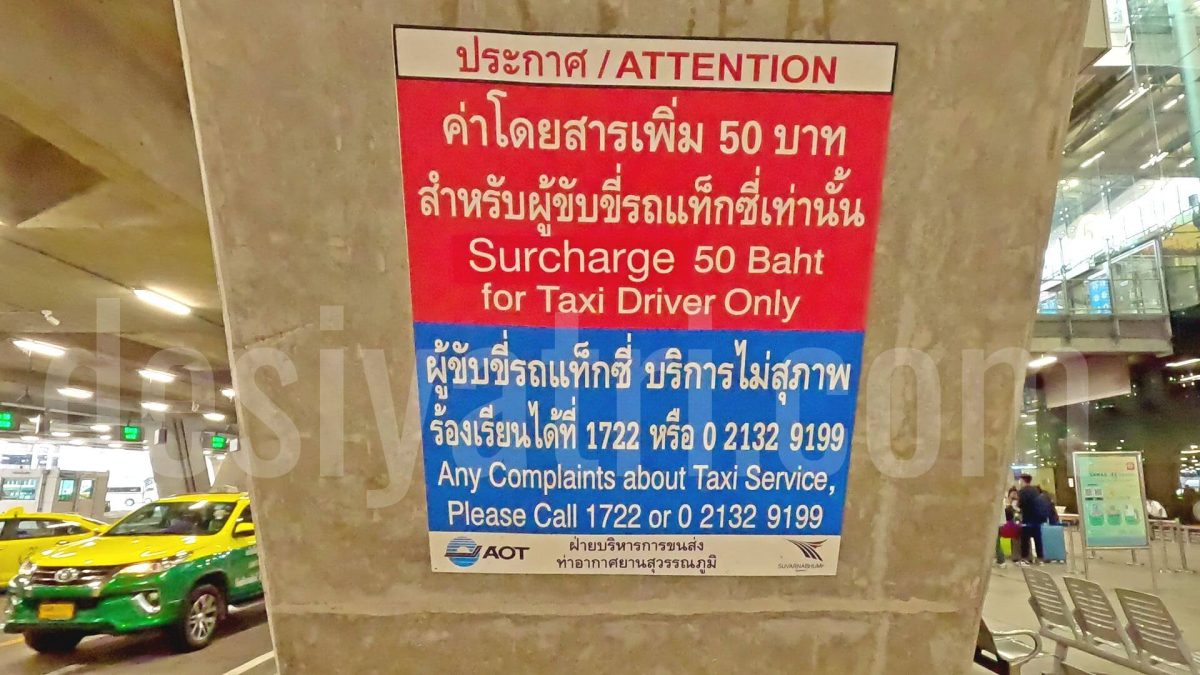 When you board a meter taxi from an airport in Bangkok (Suvarnabhumi or Don Mueang), you have to pay a surcharge of 50 THB to the driver in addition to the fare shown by the meter. The payment of the surcharge is to be made at the end of the journey, and not at the airport.
Meter Taxi Fare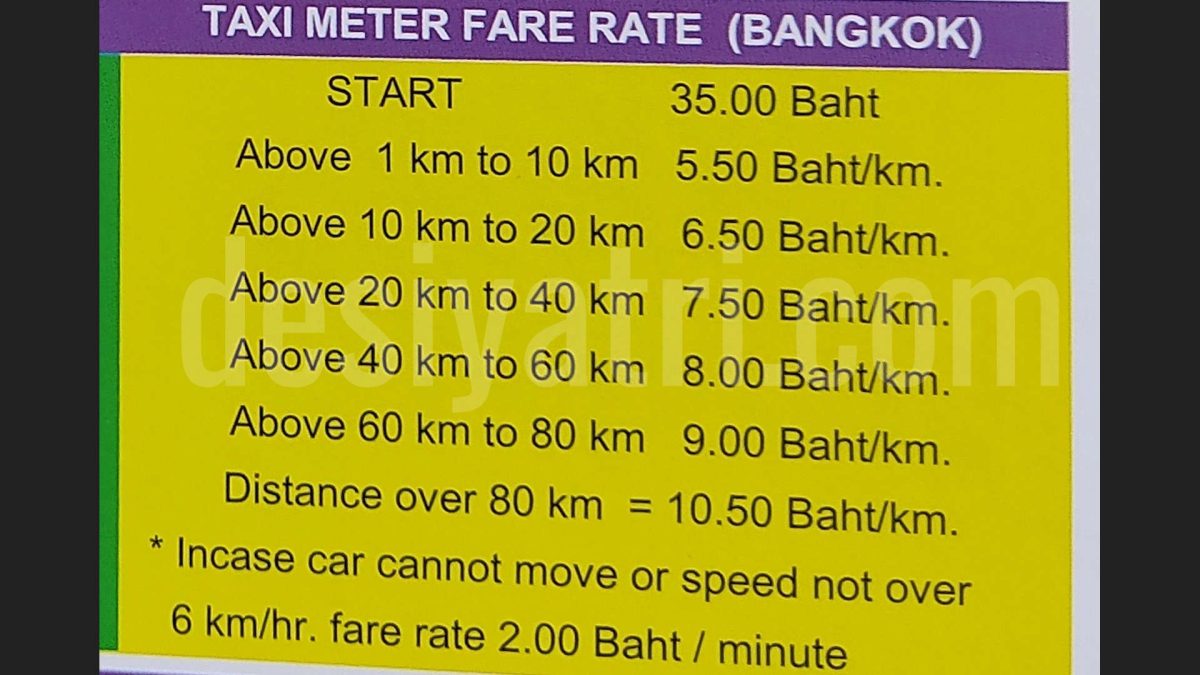 The minimum meter taxi fare in Bangkok starts at 35 Baht. The fare rates table* is given below. If the taxi is stuck in traffic or is driving at a speed not over 6 km/hour, there will be extra time fare at the rate of 2.00 THB per minute.
| | |
| --- | --- |
| Distance | Rate |
| Above 1 km to 10 km | 5.50 THB per km |
| Above 10 km to 20 km | 6.50 THB per km |
| Above 20 km to 40 km | 7.50 THB per km |
| Above 40 km to 60 km | 8.00 THB per km |
| Above 60 km to 80 km | 9.00 THB per km |
| Distance over 80 km | 10.50 THB per km |
*Meter taxi fares are subject to a change in the future. I will update this article as and when I get any new information.
Highway Toll Fees
If the driver takes a route that include paid toll roads, you may have to pay additional 70 THB or more for toll fees. During the daytime, it is advisable to take toll roads, but at night, it is not necessary. You may say "No highway" to the driver, and he will avoid toll roads.
Wait In The Queue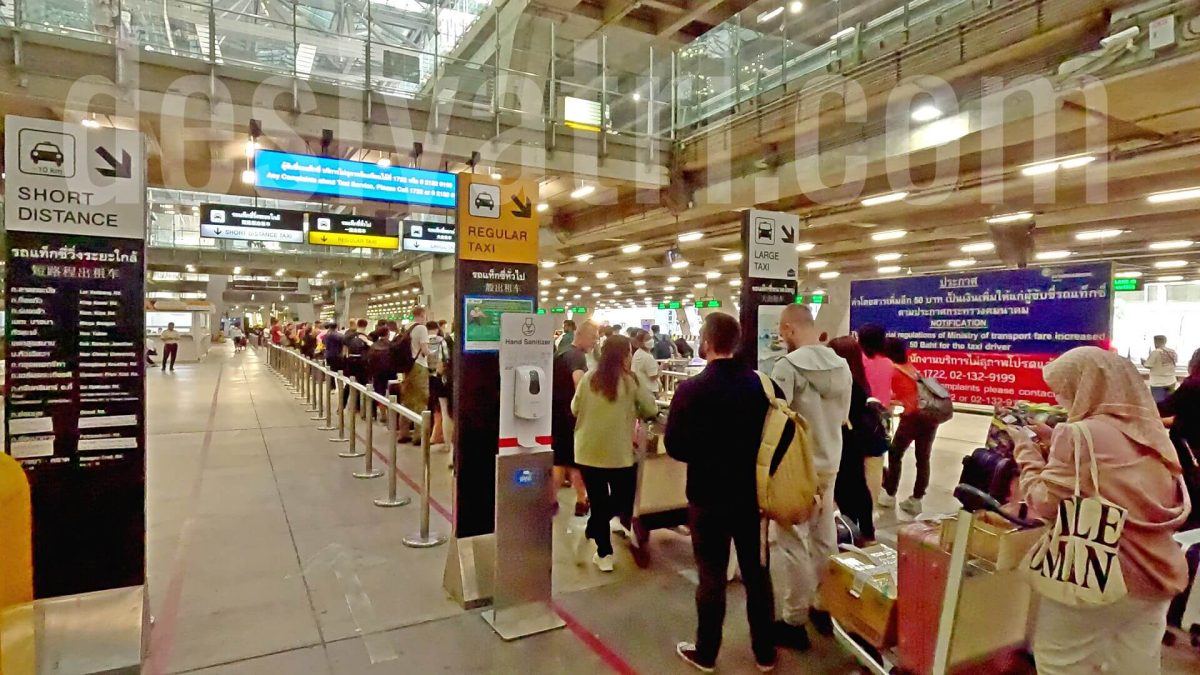 As illustrated by the picture above, you may have to stand in a long queue for a meter taxi. I have seen seriously long queues with wait times up to 30 minutes or even longer.
There are actually three separate queues here, one for the regular meter taxi, one for large taxi (SUV), and one for short-distance taxi. The fares I mentioned above are for the regular meter taxi. For the fares and availability of short-distance and large taxi, you may contact the Public Taxi Service Center, located nearby (Picture later in the article).
Token Kiosks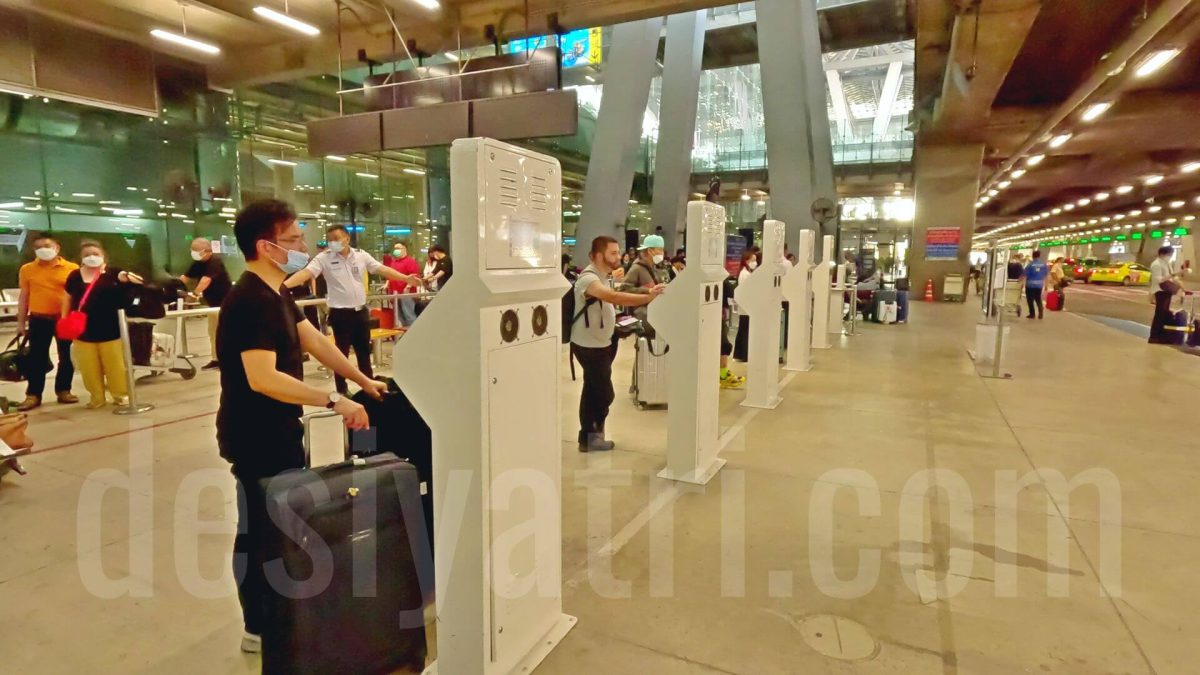 When you get to the front of the queue, you will see these kiosks that dispense tokens with the taxi slot number printed on them. Once you get a token, proceed to the slot allocated to you for boarding your taxi. During busy hours, you may have to wait again at this point for a taxi to be available.
Short-Distance Taxi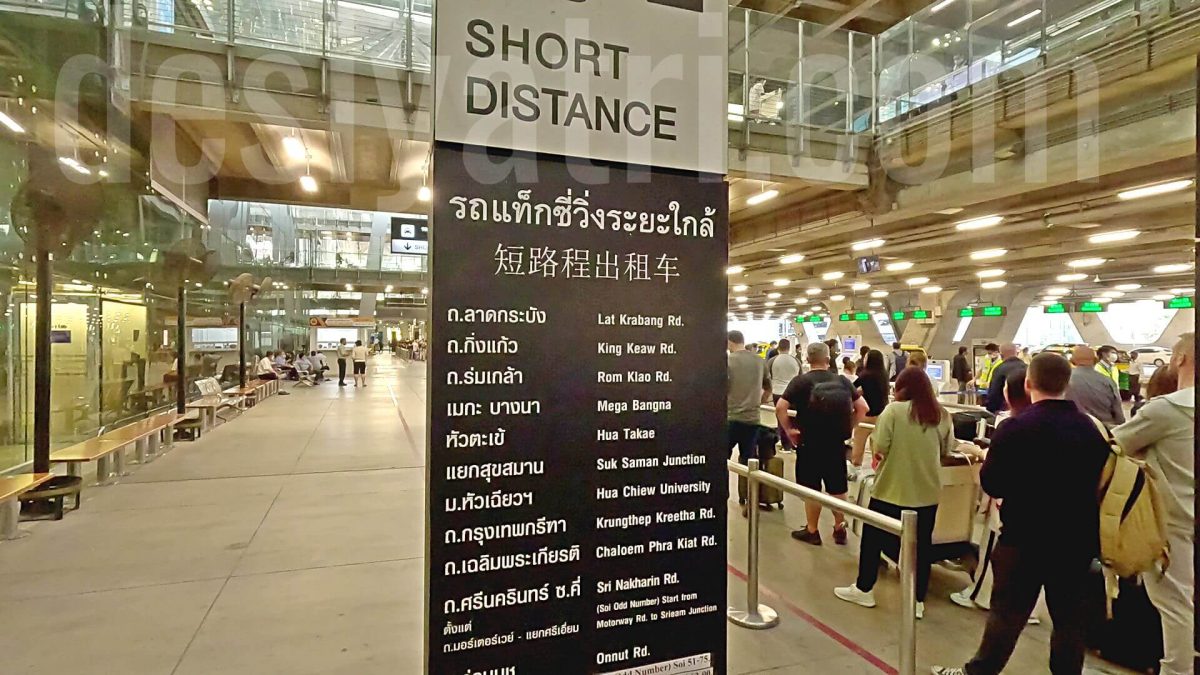 If your hotel is located on or near Lat Krabang Road, King Keaw Road, Rom Klao Road, Mega Bangna, Hua Takae, Suk Saman Junction, Hua Chiew University, Krungthep Kreetha Road, Chaloem Kia Phrat Road, Sri Nakharin Road, or On Nut Road, do not stand in the regular taxi queue. Instead, contact the staff present near the kiosks or go to the Public Taxi Service Center for assistance. As I understand, a short-distance taxi will not go by the normal fare card, but will cost more on a per-km basis.
Taxi To Pattaya
Similarly, if you want to take a public taxi to Pattaya, inquire at the service center. My guess is that a taxi to a hotel in Pattaya will cost 1500 THB plus highway toll fees.
Public Taxi Service Center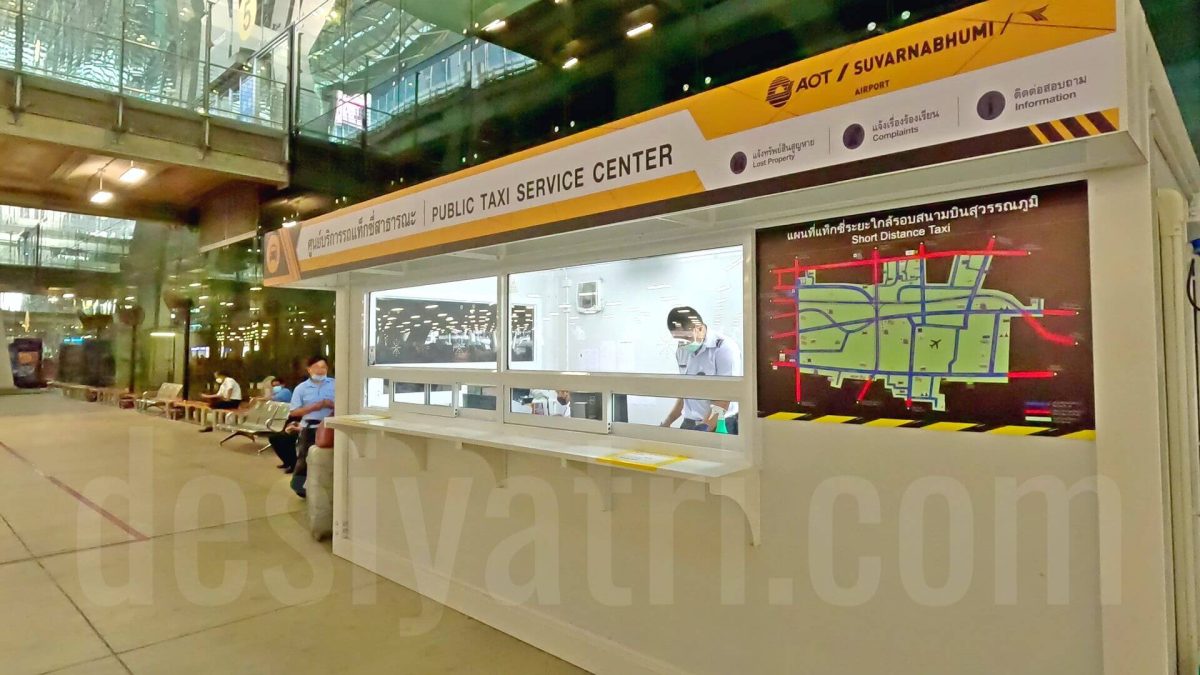 For any assistance or information you might need while in the meter taxi area, the Public Taxi Service Center you see in the picture above is the place to go.
More Useful Tips
There is no need to negotiate the fare with the driver. Do not say anything other than the name and address of your hotel. When you reach your hotel, see the meter reading, add 50 THB for surcharge, and pay the driver in cash. And like I said earlier. If you are taking a taxi at night, you may tell the driver to avoid the toll roads (say "No highway"). When the taxi starts moving, see that the meter is running. If you are carrying a little too much luggage, some additional payment may be required. However, a couple of bags is ok. If you intend to take a meter taxi at the airport, go straight to the ground floor (Level 1). Some private cab drivers may try to approach you in the arrival area, and offer rides to the city. There is no real need to take a private taxi because cheap and reliable public taxi is available at the airport 24-hours a day.
Watch Related YouTube Video
I have posted a YouTube video on Meter Taxi at Suvarnabhumi Airport, which is available on this link: https://www.youtube.com/watch?v=_I-Io27owcY
If you need any more information or want to share something, please write a comment below, and I will respond as soon as possible. Thank you for taking the time to read this article.