If you are in Pattaya and looking for cheap vegan food, this article is for you. It is actually ridiculously cheap, say, a complete meal for just 32 Thai Baht. Look at the picture below. 32 Baht was all I paid for this.
32-Baht Vegan Meal In Pattaya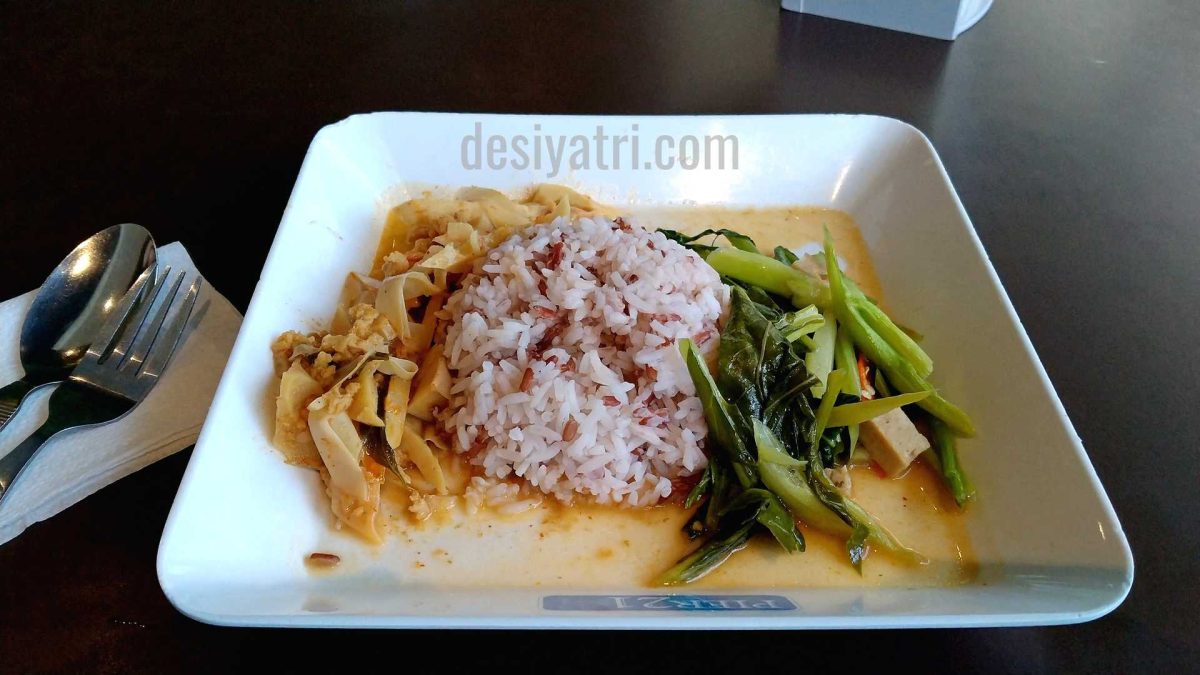 I know you would be curious. So, this cheap and best vegan food can be found in the food court of Terminal 21 Shopping Mall in Pattaya. The food court is called Pier-21, and is located on level 3 of the building. Once there, look for counter number 10, which prominently displays the word – Vegetarian.
The standard meal here is a portion of rice and a curry or curries of your choice. There are about a dozen curry options to choose from. The cheapest set would be of rice and one curry, and would cost 27 THB. If you choose two or three curries, the cost would be 32 or 40 THB.
The Menu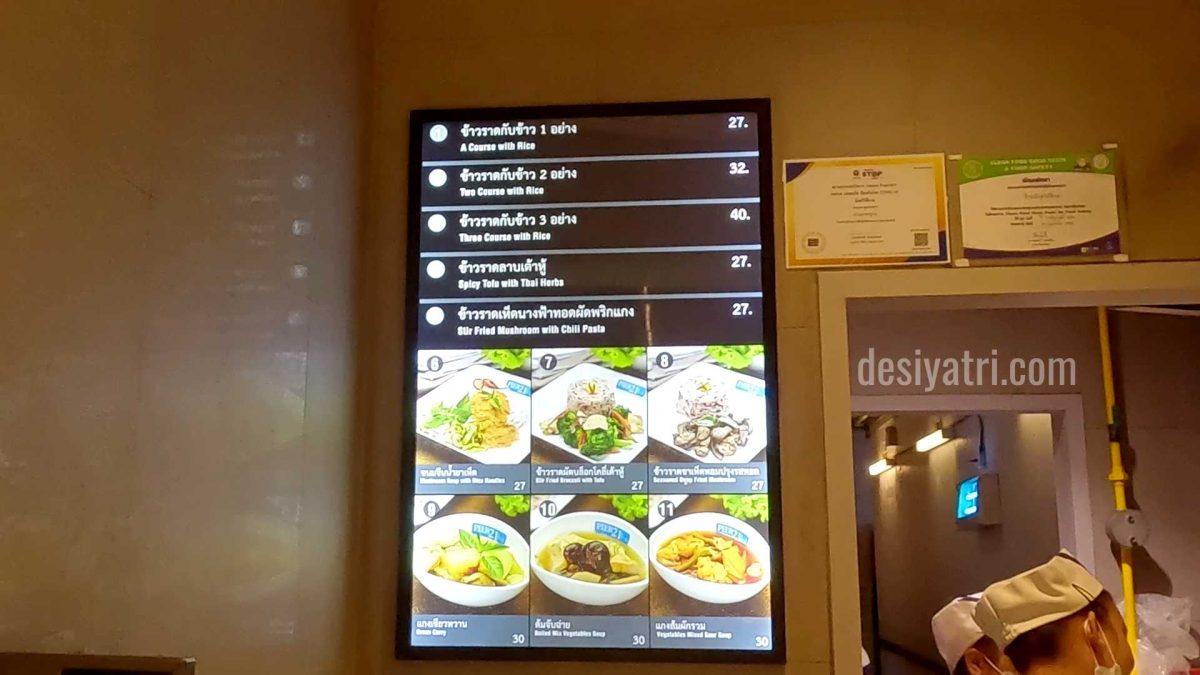 There is a special menu of a few vegetarian curries which can be separately ordered at a price of 27 or 30 THB a piece. The ingredients in these curries are vegetables, tofu, and mushrooms. The food is moderately spiced, and has a pleasant taste.
A few of the dishes on offer contain eggs, or one can order a fried egg along with a standard rice meal. Otherwise, all the food is vegan.
Dining Area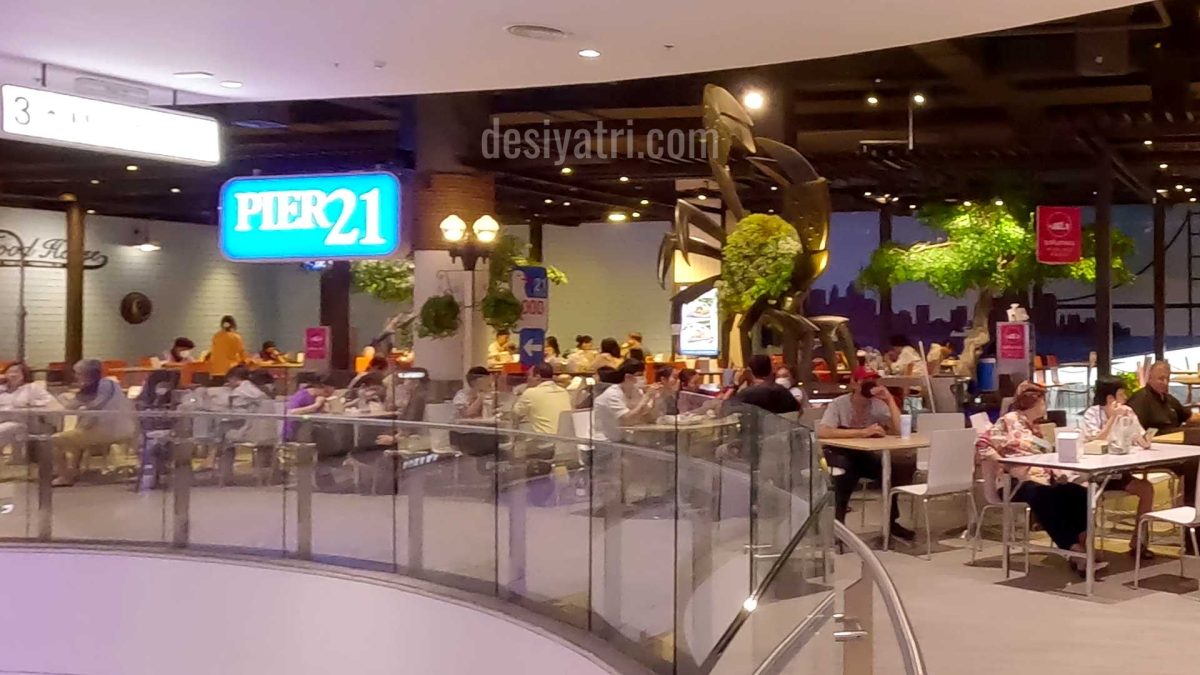 There is a large common dining area in the food court, with comfortable chairs. Paper napkins are available at each table.
Take Away
Take away is possible with an extra payment of 5 THB as container charge.
Cash Card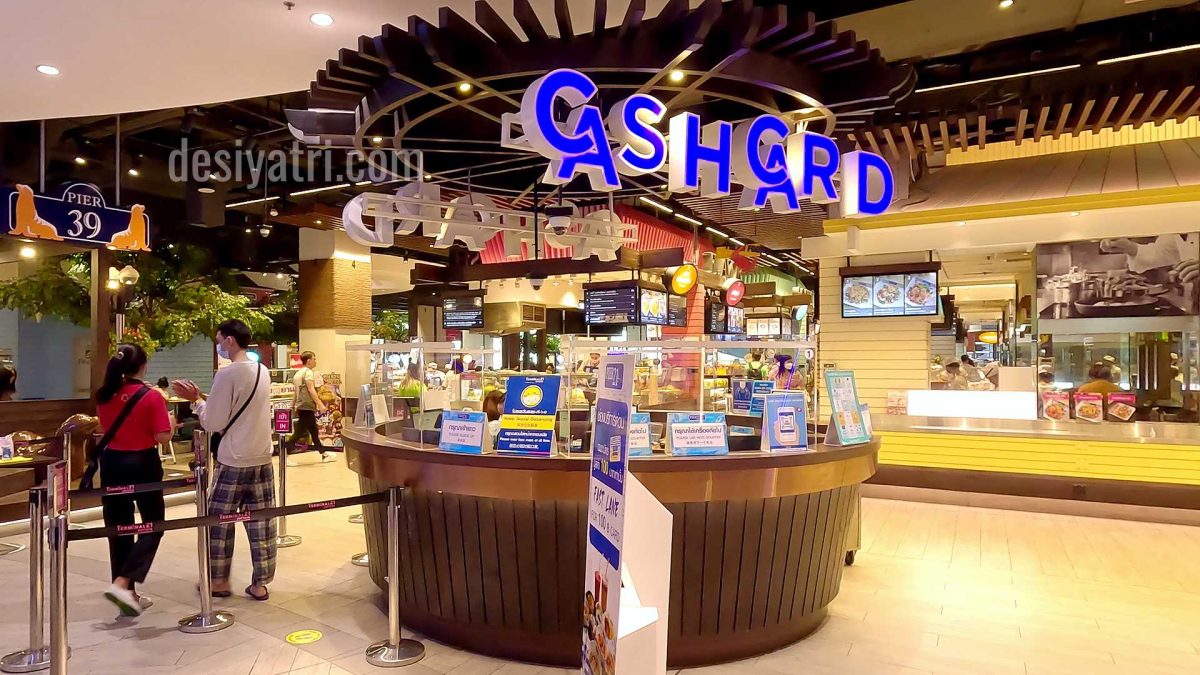 All payments at the Pier 21 food court are to be made using a cash card, which can be obtained against cash payment from the counter shown in the picture above. Any left-over balance can be withdrawn from the same counter.
Opening Hours
The food court opens daily from 11.00am to 10.00pm, and the same goes for the vegetarian counter. However, if you are going in the evening, it is better to go before 8.00pm because in the late hours, some of the curries get sold out.
If you enjoy simple, healthy and vegetarian food, do try this vegetarian counter the next time you visit Terminal 21. You will like it, as I do. For more information or feedback, please write a comment below, and I will respond as soon as possible. You may like to watch my YouTube video on this vegetarian counter at this link: https://www.youtube.com/watch?v=dUY9hhM_WpM