Batu caves complex (named after the nearby Batu river) is one of the most visited tourist and pilgrimage sites in Malaysia. The caves are said to be 400 million years old, but their existence came to prominence only in 1878 when William Temple Hornaday, an American zoologist and taxidermist, revealed their existence to the world. Until then, the caves were used by the local people for catching bats and collecting their droppings.
The discovery inspired an Indian trader named K. Thamboosamy Pillai to establish a Hindu shrine there, which was built in the largest cave in 1891, and was dedicated to Lord Muruga. There is a story that the trader had a dream in which he received instructions from Lord Muruga's mother to build the shrine. Hence, the caves became a site of Hindu pilgrimage, particularly during the annual Tamil festival of Thaipusam, which is observed during January or February.
A large crowd of devotees descends on the caves during the festival days, and that may be a time either to avoid visiting the site because of the crowd or to visit the site if you are interested in watching a major South Indian festival in Malaysia.
In this article, I will share all the necessary information so that you can visit the caves either on your own or as part of a tour group.
What To See
1. Lord Muruga's Statue And The Staircase
The huge golden statue of Lord Muruga, that you see in the picture above, stands at the entrance to the complex. It was built in the year 2006, and is 140 feet tall. Beyond the statue starts the mighty staircase of 272 steps. In 2018, the staircase received a controversial makeover when it was painted in vibrant colors, giving the place a theme park type of look.
Once atop the staircase, you find yourself at the entrance to the main temple cave.
2. Temple Cave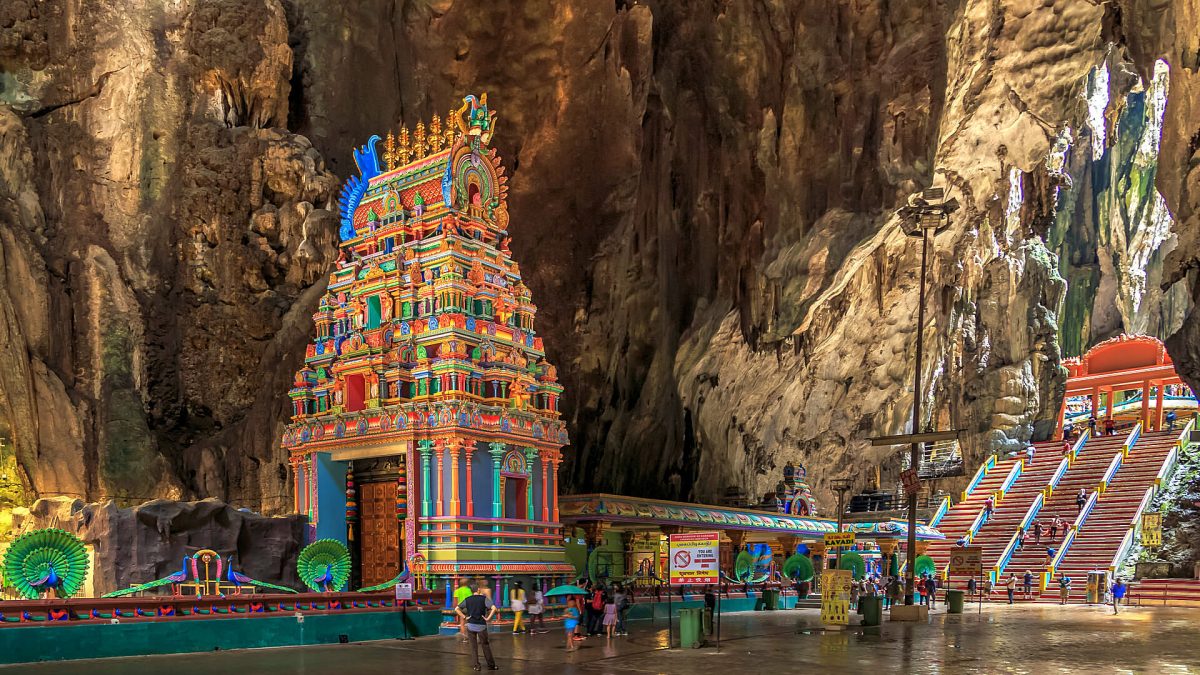 The temple cave is the largest cave in the complex. It has the Lord Muruga Temple, a few other colorful shrines, and a high ceiling, giving it a majestic look.
3. Sri Valli Deivanai Temple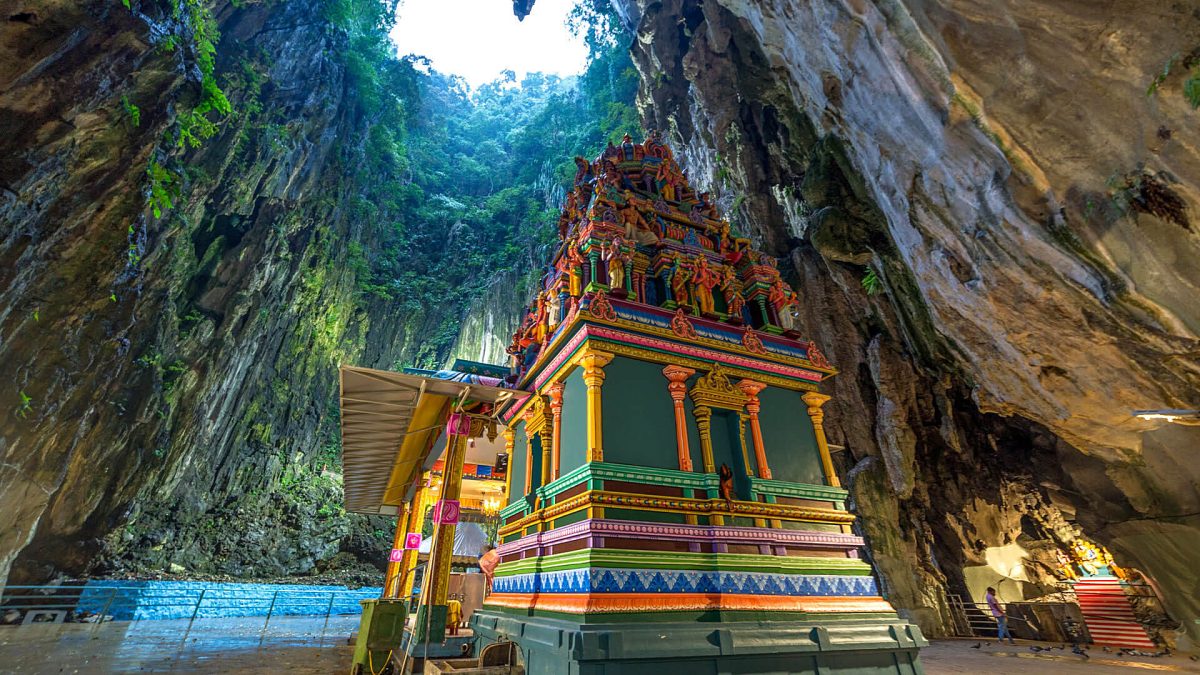 At the end of the temple cave is another staircase which leads to the upper cavern housing the Sri Valli Deivanai Temple, dedicated to the wife of Lord Muruga.
4. Dark Cave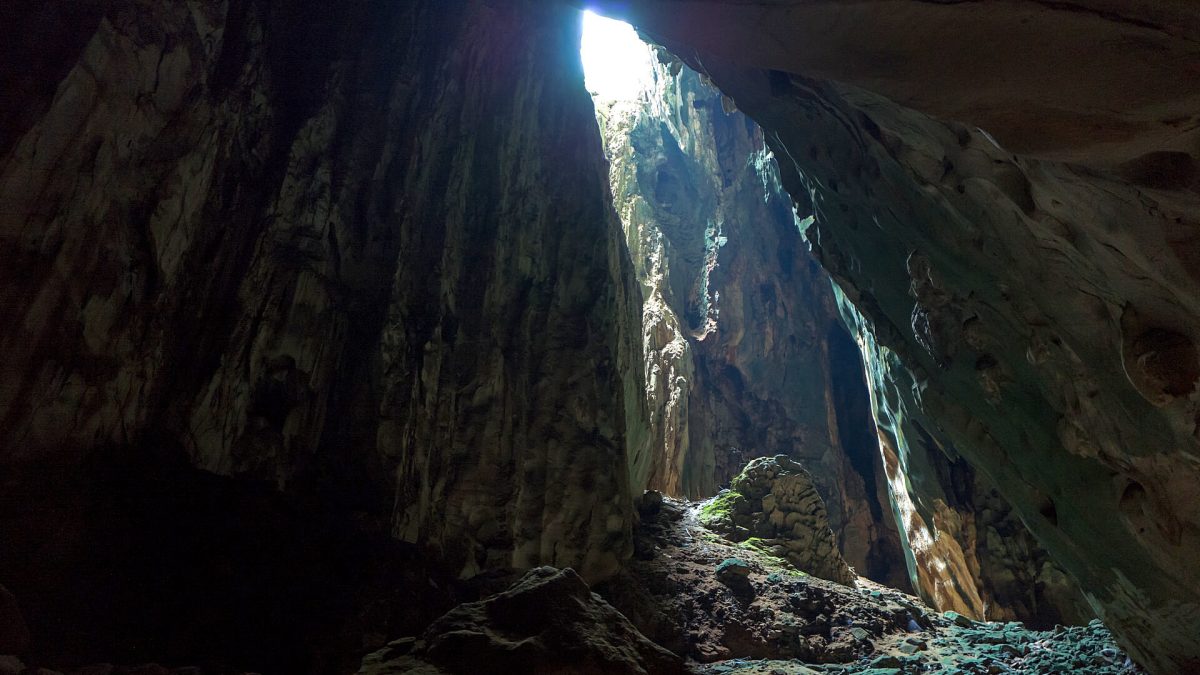 Dark cave is a conservation site in which one gets to see rock formations, bats, and other wildlife. It can be visited only as part of a guided tour, which may require advance booking. Entry to this cave is midway on the mighty staircase. **Dark cave tours were not operating at the time of writing this article.**
5. Ramayana Cave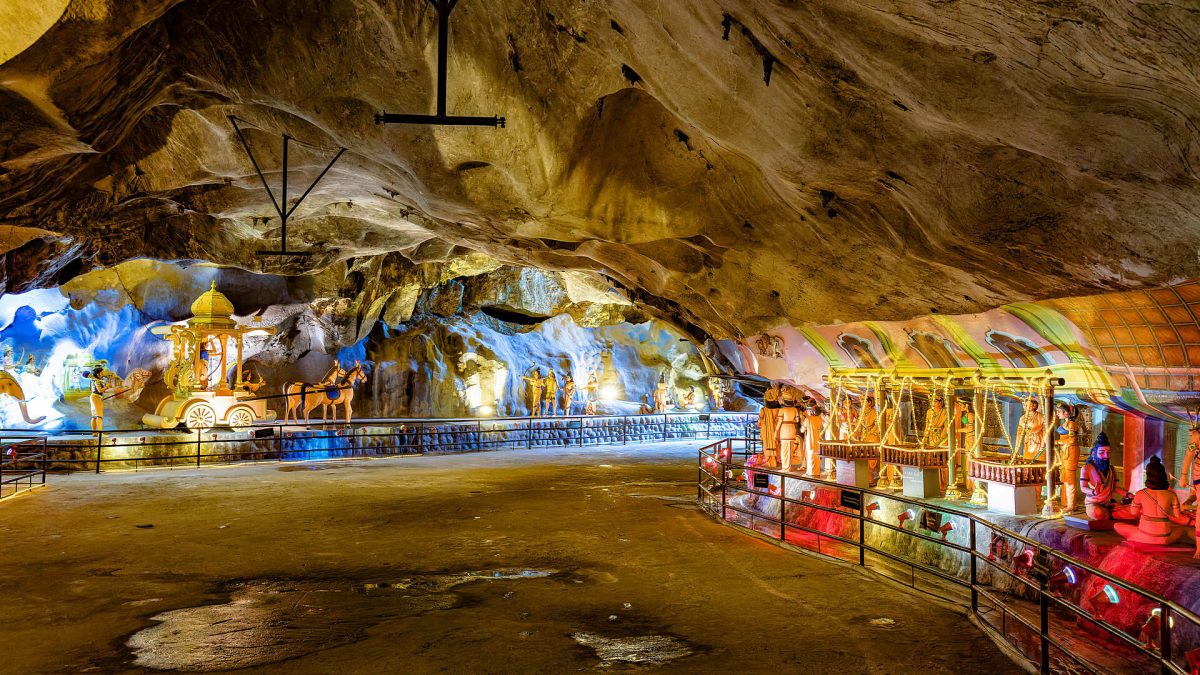 The Ramayana cave is sort of the "theme park" side of Batu caves. It is located near the entry to the complex. The cave is well lit and has several displays depicting scenes from the epic Ramayana. One needs to buy an entry ticket of RM5 to visit this cave.
Cave Villa
Cave Villa is a private setup adjacent to the caves, and requires an entry fee of RM15 for foreign tourists. It has a pond, a mini zoo, an aquarium, and two small caves similar to Ramayana cave. I have read some online reviews of Cave Villa that mention issues related to ill-treatment of animals in the mini zoo. I guess, Cave Villa can be totally avoided. There are better ways to spend RM15 in Kuala Lumpur.
Timings
Batu caves complex is open daily from 6.00am to 9.00pm.
Entry Fee
Entry to the temple cave is free for all. However, to visit Ramayana cave, one has to buy a ticket costing RM5.
Getting There
(i) Conducted Group Tour
The cheap and reliable conducted tour of Batu Caves from Kuala Lumpur that I could find, cost ₹ 718 (approximately USD 9) per person. This 3 hour 30 minute tour includes two-way hotel transfers for hotels in KL City Center and Bukit Bintang areas, and the services of an English-speaking tour guide. The tour is offered by Klook online. This is the link: https://www.klook.com/en-IN/activity/1293-half-day-kuala-lumpur-suburbs-and-batu-caves-tour-kuala-lumpur/
(Please copy and paste the link in your browser to visit the page. If the link is not functional, kindly drop a line in the comments form below.) Klook offers both morning and afternoon tours.
(ii) Private Tour
Klook also had a private half-day tour of Batu caves on offer which costs ₹ 1293 (approximately USD 16) per person. However, the problem with these or any other conducted tour of Batu Caves is that considerable time gets wasted doing visits to handicraft stores and factories as part of the tour and eventually, you only get a short time of 40 minutes to see the caves.
40 minutes is not enough. You will need a minimum of two hours to see the caves and leisurely walk around the complex.
(iii) Do It Yourself
KTM Komuter Train
You can board this train (Batu Caves-Port Klang route) from KL Sentral station to Batu Caves station. The price of the ticket is RM2.60 one way. The train station at Batu caves is at a short 5-minute walk from the caves complex.
Taxi or Grab Car
If you are traveling in a group of 2 or 3, a taxi may be the best option, which should cost RM50 or 60. A Grab car may be cheaper if you have the app installed on your phone.
Bus
The option of going to Batu caves by bus is very much there, but it is not advisable for tourists. Finding the right bus and then the time it takes to get to the caves will be troubles that a tourist should not take. It is better to choose between the train and the taxi. In case you are still keen on the bus, you may take bus 11/11D from Bangkok Bank Terminus or bus U6 from Titiwangsa Bus Terminal.
There is another tour option where they offer a full-day tour of Batu caves and Genting Highlands. In my opinion, that tour should be totally avoided. If you want to enjoy Genting Highlands, you should plan an overnight stay there. For Batu caves, a half-day tour is more than enough. And it is better if you do it yourself, rather than going through a travel agent.
When you are in KL and have the time, do visit Batu caves. If not for the temples, you may at least visit the site to see 400 million-year-old caves. It will be worth your time and money.