Malaysia is one of the few countries which have a system of granting electronic visa (eVisa) for Indian tourists. An application for Malaysian eVisa is a straightforward process, with a small list of requirements, and a fee which is a lot less than what Indian tourists pay for a visa on arrival for traveling to Thailand.
Before the pandemic, Malaysia had two types of eVisa, a regular eVisa, and a simplified visa-waiver program called eNTRI, which had an application process similar to eVisa, but was granted immediately after submission of the application. eNTRI used to be a little cheaper too. In 2022, however, when I started my online application for a Malaysia visa, there was no eNTRI. There was just the regular eVisa.
And eVisa is not granted immediately. It may, actually, take 7 to 10 working days, or longer, even though the official eVisa website promises a much shorter processing time. In this article, I will share complete information that you will need to apply for a Malaysian eVisa, including a few special tips which you will find quite helpful.
There is also a fraud eNTRI website, where you will lose your money if not careful. Read about that in this page.
Let us now see the official Malaysian eVisa website.
The official Malaysian eVisa Website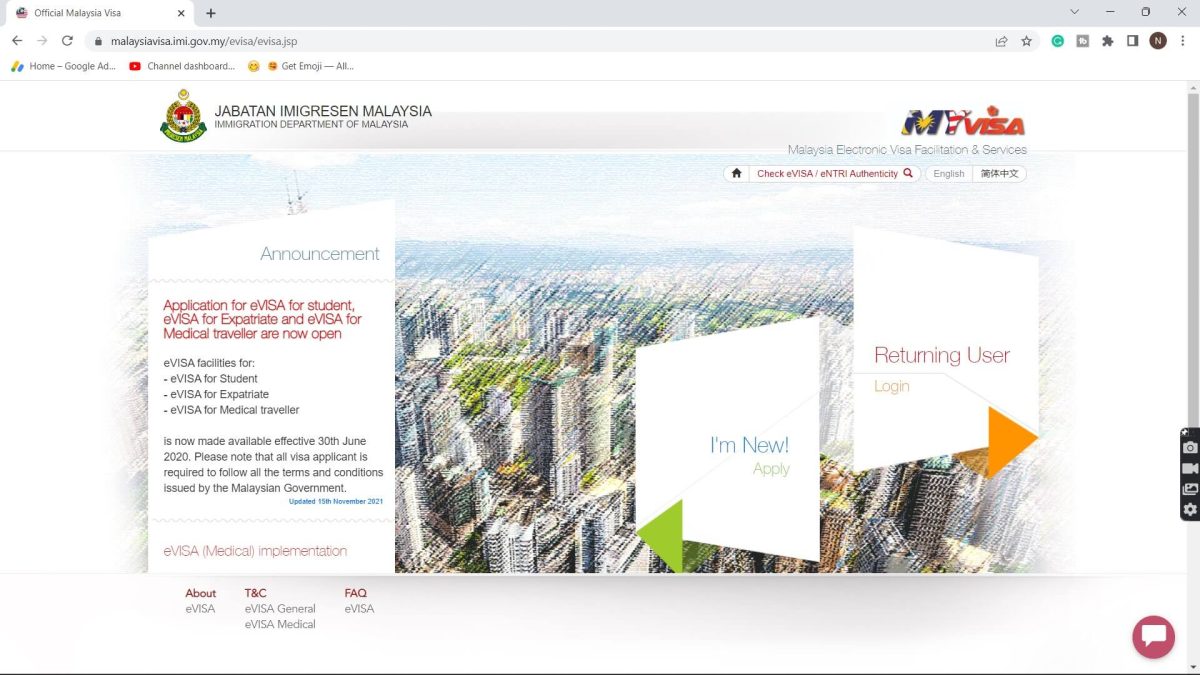 The official Malaysian Government website where you can safely submit an application for eVisa is: https://malaysiavisa.imi.gov.my/evisa/welcome.jsp (If this website is not reachable, please write a comment below for an update)
If you are a first-time visitor to this website, you need to register before being able to submit an application for eVisa. Once your application is submitted, you can log onto your account and see the status of the application, which would generally be either "In Progress" or "Approved" or "Rejected".
Apply Three Weeks In Advance
Even if the eVisa website promises a short processing time, it is advisable to apply at least three weeks in advance of your travel date. There have been several reported instances of delay in processing of eVisa. The usual processing time is 7 to 10 working days, but it can be longer.
Requirements For Malaysian eVisa
Here I am giving a quick list of the requirements. Some of these need more details*, which are given below the list:
Digital copy of applicant's photo in JPEG format
JPEG/PNG scans of the passport photo page and address page
Passport should have minimum remaining validity* of six months
Scan of entry/exit stamp of the last country visited
PDFs of confirmed return air tickets and hotel bookings
Merge multiple bookings in single PDF
Separate PDFs for hotel, air ticket, and last country visited
Applicant photo in JPEG
Make online payment of eVisa fee
*The applicant photo should be taken in a studio with white background. Selfie is not accepted.
Passport validity of six months is counted from the travel date, and not from the visa application date.
If your passport does not have any entry/exit stamp of the last country visited, it is better to apply for a sticker visa via an authorized agent.
Prepare digital files before starting your application. You will need a JPEG of your own photo, two scans (JPG/PNG) of passport pages having photo and address, three other PDFs containing hotel bookings, air tickets, and passport page with entry/exit stamp of last country visited. Merge all hotel bookings in one PDF, and similarly, all air tickets in a single PDF. Google for websites that offer free PDF merge facility.
eVisa Fee
In September 2022, I paid a total of 156.24 Malaysian Ringgit as eVisa application fee. This fee can change at any time as decided by the Malaysian Government.
eVisa Validity And Length Of Stay
Malaysian eVisa is valid for 3 months, but the permitted length of stay will vary as per your nationality. Indian tourists are allowed to stay for a maximum of 30 days, including the days of arrival and exit, in a single visit.
eVisa Status Check
The eVisa website promises that when your visa is approved, you will receive an email. However, according to my own personal experience, that email may not arrive or may arrive with a delay. The best way to check the status of your eVisa application is to log in to the eVisa website, where the status of the application will be shown as "In progress" or "Approved". You can start checking four working days after submitting your application.
Immigration Checklist
Grant of eVisa does not guarantee entry into Malaysia. Upon your arrival at a Malaysian checkpoint, the immigration officer will see the following documents:
Passport with a minimum remaining validity of six months
Valid eVisa printout on good quality A4 sheet
Accommodation and return or onward journey air tickets
Boarding Pass
Sufficient funds** to support your expenses in Malaysia
Purpose of visit*** should be tourism only
Any other documents/information demanded by the immigration officer
**The exact requirement of funds is not specified, but it is my understanding that you should have a minimum amount equal to 500 USD per person. The money can be carried in MYR, USD, or any other easily convertible currency.
***Be clear about the purpose of your visit because that question will be asked. Entry to Malaysia can be denied if the immigration officer has any suspicion about the purpose of your visit.
Each Applicant Should Apply Personally
Do not submit eVisa application on behalf of someone else. Each applicant is expected to register on the eVisa website and submit their own application.
Official Malaysia eVisa Links
eNTRI Fraud Website
I made this shocking discovery, in September 2022, of a fraudulent eNTRI website. I ran a Google search for "eNTRI Application" and the search result at the top of the page was this fraud website which not only "accepted" application for eNTRI but even demanded a payment of 195 USD. The payment page on that website was another masterpiece of deception. They were asking for my credit card details very prominently, but the amount I was going to pay was not so easy to locate. After I looked hard, I saw an amount of USD 195 or so, written in tiny letters in one corner of the page. All this was happening when Malaysia was not even issuing eNTRI. Thankfully, I got suspicious and did not fall prey to the fraud.
Comment Below For Clarifications Or More Info
If you need any more info or a clarification, please write a comment below, and I will respond ASAP.