If you are in Pattaya, and are looking for the best money changer, you may not have to look far. This money changer – T.T. Currency Exchange – not only offers the best exchange rates for both buying and selling foreign currencies, it also has outlets in 36 locations in Pattaya. As long as you are in a tourist area in Pattaya, there is a T.T. branch nearby.
I have personally walked around the popular areas of Pattaya looking for T.T. branches and comparing their exchange rates with other money changers nearby. I did not see anyone giving better rates. Though there are some money changers in Pattaya who try to match T.T.'s exchange rate for 100 USD bills, but when it comes to less common currencies, they just can't compete. The exchange counters operated by Thai banks in Pattaya are particularly bad, and must be avoided.
T.T. Currency Exchange Locations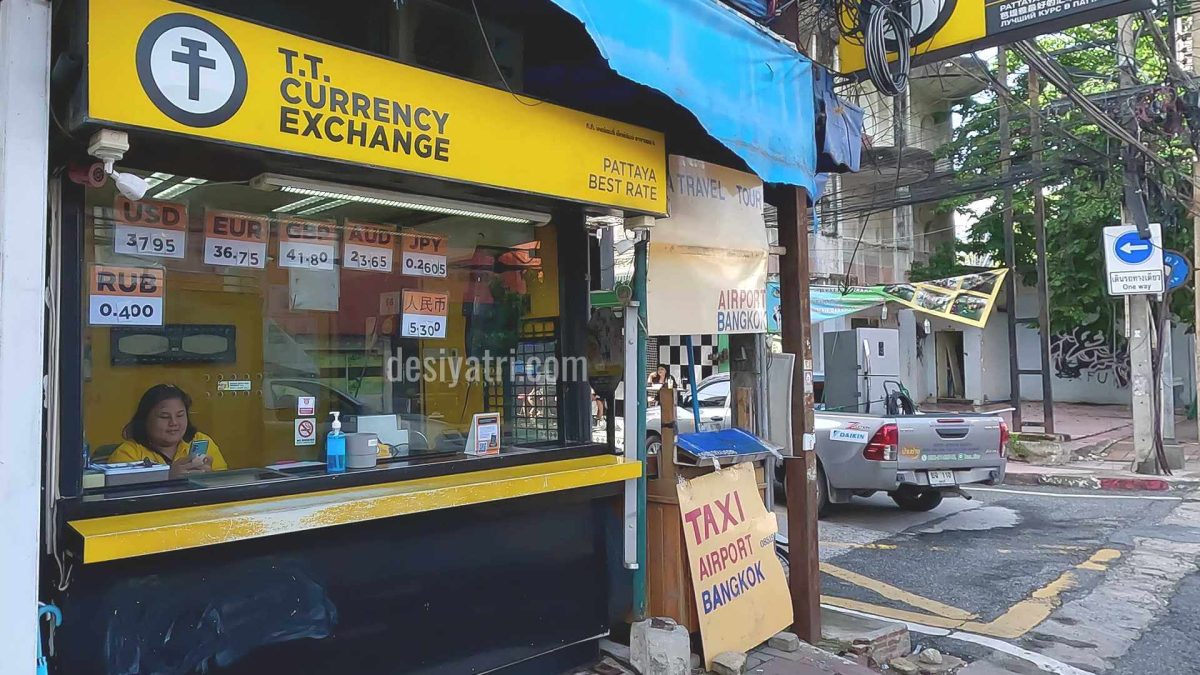 Prominently, T.T. Currency Exchange has outlets on Beach Road, Second Road, Soi 6 (Second Road end), Soi Buakhao, and even on Walking Street. There is a branch on the ground level of Terminal 21 Mall, and another one at Tukcom. If you are in any of these areas, you may have to walk just a short distance to find a T.T. outlet. There is a list of T.T. Currency Exchange outlets on their official website – https://ttexchange.com
Operating Hours
The general operating hours for T.T. Currency Exchange outlets are from 9.00 AM to 9.00 PM. However, some outlets have different timings. For example, the Walking Street outlet opens from 5.00 PM to 1.00 AM, while the outlet inside Terminal 21 Mall opens between 11.00 AM and 10.00 PM. Their Second Road HQ branch is open up to 10.00 PM, and that one is a good place to visit if one is looking to exchange a large amount of currency.
Watch A YouTube Video
I have posted a YouTube Video on T.T. Currency Exchange, in which you get to see some of their outlets in Pattaya, including the Walking Street branch. Watch it here: https://www.youtube.com/watch?v=id8B9sxtFUg
If you need additional information or a clarification, feel free to write a comment below. I will respond ASAP.