I was looking for an image that accurately represents the system of public transport in Pattaya, and after searching for quite a while, I zeroed in on the image you see above. In this picture, except for the street food vendor carrying her merchandise, almost everything is blurred. Still, you get to see the three modes of transport that help you get around Pattaya – a meter taxi, a baht bus, and a motorcycle taxi.
Actually, there is a fourth mode too, and I will write about that later in the article, but that is the one you need to avoid.
So, let's find out how you travel around the city of Pattaya.
1. Baht Bus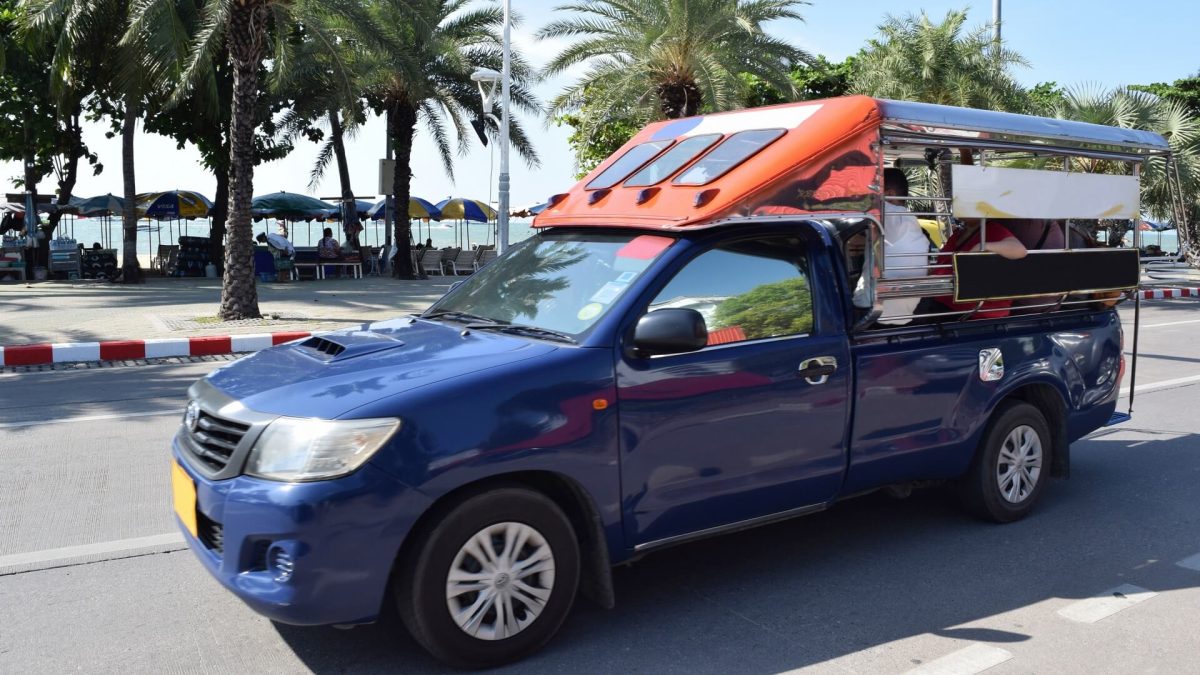 A baht bus is called so because once upon a time, people could ride on this vehicle for just one Thai baht. Today, it costs a minimum of 10. As you can see in the picture, a baht bus is a high-speed vehicle with a seating area for passengers in the back. The local name for this vehicle is songthaew, which literally means two benches. The two benches facing each other are covered with a canopy to protect passengers from rain or sun. There is also a small standing area at the back, for those who cannot find a seat or just want to travel while standing.
Baht Bus Routes In Pattaya
The two busiest routes for baht buses in Pattaya are (i) the Beach Road, and (ii) the Second Road. Both the roads allow only one-way traffic. If you board a baht bus on Beach Road, you are going towards Walking Street, and if you board it on Second Road, you are going towards Dolphin Circle. Other popular routes of baht buses include the ones towards Naklua and Jomtein, and also on North, South, and Central Pattaya roads which connect Second Road to Sukhumvit Road.
How Much To Pay
The minimum fare for a tourist riding a baht bus is 10 THB, though I have seen locals paying only 5 for travelling short distances. And if you are carrying luggage, a polite thing to do will be to pay 20 THB. There is another side to the story. Once, I boarded a baht bus from Central Festival Mall, alone and with no bags, and got down at the entry to Walking Street. I tried to hand over 10 THB to the driver, but he rudely demanded 20. That can happen, but it has happened to me only once, a baht bus driver demanding an unreasonable fare.
Don't Act Like A Tourist
The trick to using baht buses successfully in Pattaya is to not act like a tourist. Don't ask the driver anything before you board. Just board the bus and pay the fare after you get down. There are electric bell switches attached to the canopy and once you ring the bell, the driver stops the baht bus at the next scheduled stop. Get down and go to the front and pay the driver using exact change.
If you ask a driver before boarding, whether they could take you some place, you may end up paying 100 THB or more depending on what kind of mood they are in. Going to a particular place, outside the normal route of the bus, becomes a charter ride, and it usually costs 100 THB or more. However, there will be situations when you do not know about the route of a baht bus and need to confirm before boarding. In such a case, it is better to ask another passenger who is waiting there for a bus.
2. Motorbike Taxi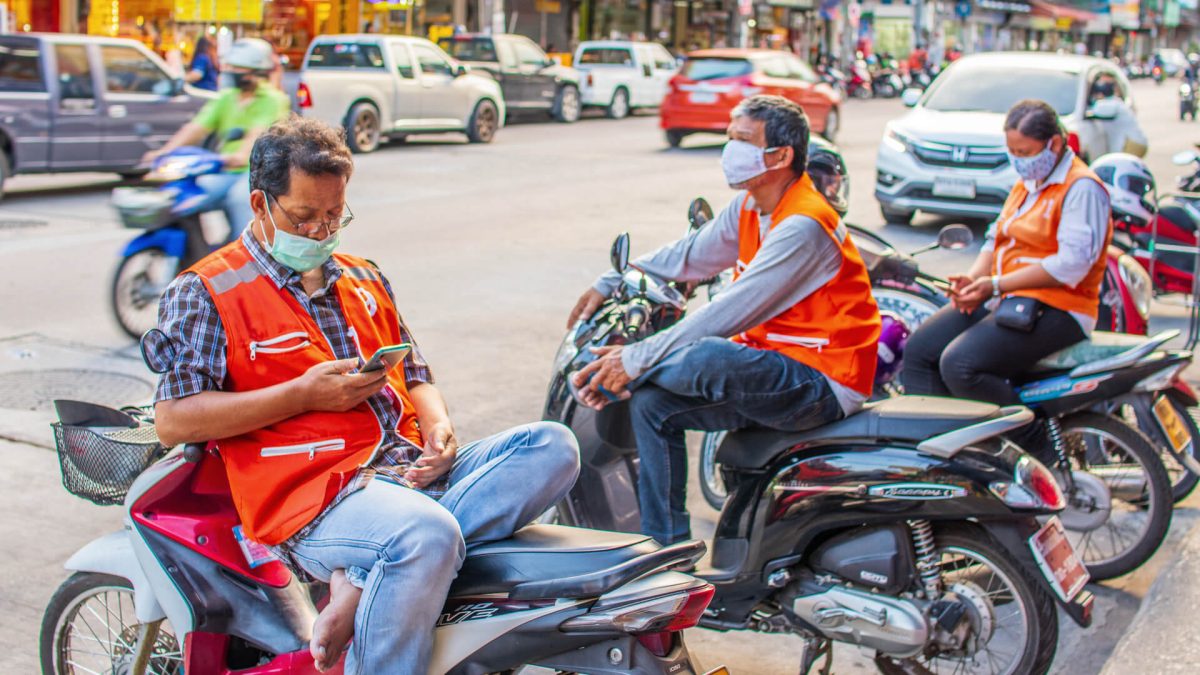 The other most convenient mode of transport in Pattaya is a motorbike taxi. If you are travelling solo and without any luggage, or maybe even carrying a small bag, a motorbike taxi is your best mode of transport. It works perfectly if you are going to a particular place, such as your hotel, which is not on a baht bus route.
The motorbike taxi driver will keep your small shopping bag in the carrier basket in the front and your small luggage in the space between the seat and the handle. Usually, only one passenger is allowed on each motorbike taxi.
How Much To Pay
Motorbike taxi drivers demand a minimum of 40 THB, even to go a short distance. The reason is, a fare to a short distance also costs the driver his turn for a fare at the taxi stand. You may try to negotiate the fare, but do not try too hard. I will give some idea of the fair you will pay:
Central Festival Mall on Beach Road to Walking Street: 40 THB
Central Festival Mall on Second Road to Alcazar Show: 40 THB
Hotel Red Planet on Second Road to North Pattaya Bus Terminal: 60 THB
How To Travel Safely On Motorbike Taxi
There have been unfortunate accidents in which passengers were hurt while riding on motorbike taxi. The golden rule for safety on a motorbike taxi is to never take your feet off the foot rests, whether the bike is moving or waiting at a traffic stop. Let the driver balance the bike, it is not your job. I will say it again, always keep your feet on the foot rests.
3. Meter Taxi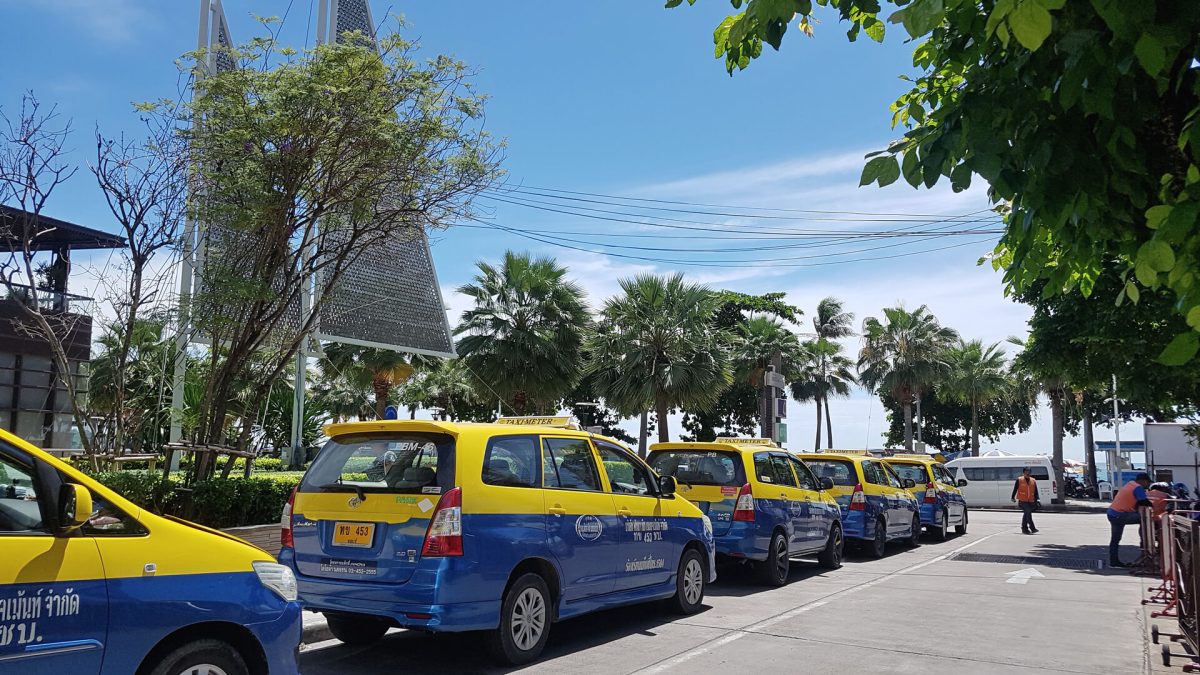 Meter taxi, officially called "Taxi-Meter" in Thailand, should be used in Pattaya only when no other option is available or suitable. The word "meter" in the name is only for show because no taxi in Pattaya will go by the meter. You negotiate a fair before you hop on, that simple. The minimum fair for a meter taxi in Pattaya is 200 THB, even if you are going 1 km.
Actually, the meter taxi in Pattaya is there for outstation rides only, for example, to go to an airport in Bangkok at odd hours when the public bus will not be available. If you are going from Pattaya to Suvarnabhumi Airport, expect to pay approximately 1200 THB, and for Don Mueang Airport, an additional 300 to 400 THB. These fares include highway toll charges, and it is something that needs to be clarified with the driver before you agree to a price.
Where To Find Meter Taxi In Pattaya
Meter taxi can be usually found in the parking area around Central Festival Mall. You may also spot a taxi parked on any other road if you are lucky. However, if you are going to a Bangkok airport, it is recommended to book a taxi via your hotel or a travel agent having a proper shop. Booking directly with a taxi driver may be a bit cheaper, but will make things difficult for you if the driver fails to show up at the agreed time.
4. Bike Rental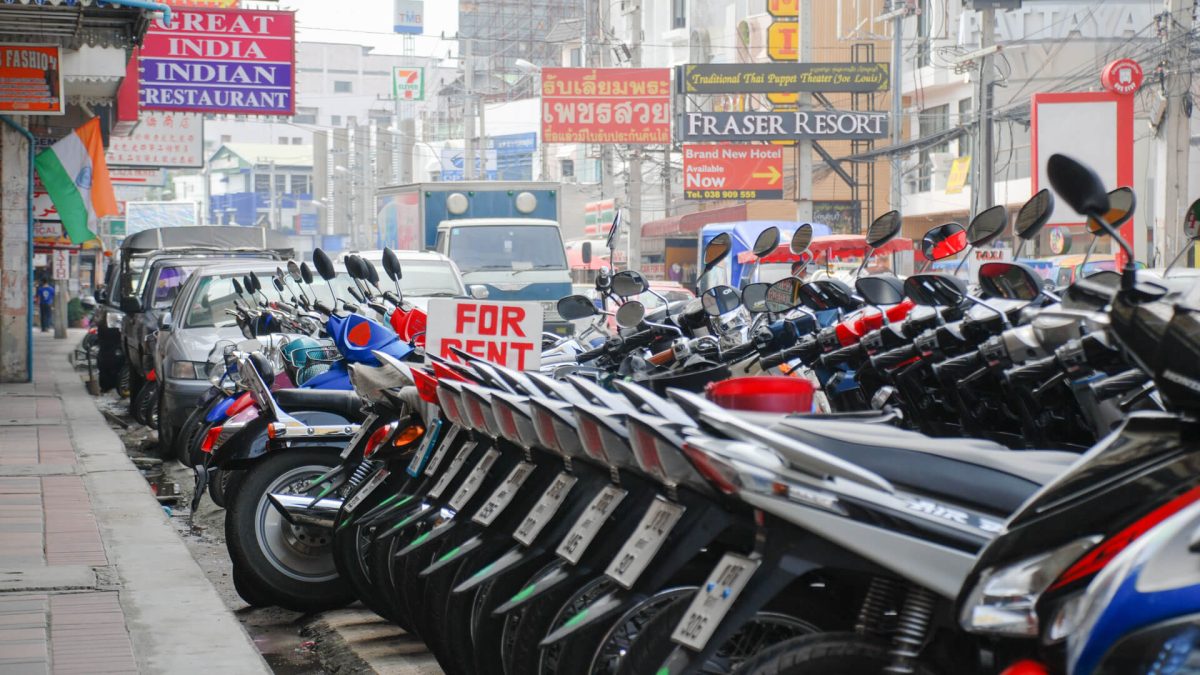 Renting a bike for your short stay in Pattaya may seem like a convenient and cheap option. However, there is something that you need to know. The bikes offered for rental anywhere in Thailand are usually not insured, not even for third-party liability. You take all the risk, which can be a lot. If you are still considering it, clearly ask the vendor about insurance before taking the key to the bike.
Rent-wise, expect to pay a minimum of 300 THB per day, and you have to fill the tank, of course.
I hope this article helps. If you have any comment or question, feel free to use the comment form below. I will respond as soon as possible. Thank you for reading.