Doing your laundry is not a subject likely to be on your mind when you are planning a holiday in Pattaya. However, if your stay there will be longer than just a few days, then you just might need to look around for a laundry service.
Although the subject of this article is a coin-operated self-service laundry, for adequate disclosure, I must mention that cheap and reliable full-service laundry shops are everywhere in Pattaya. Those shops mostly charge by the weight of your laundry, something like 70 THB per kilo. And if you want your clothes to be pressed too, then the cost might go up to 100 THB or more per kilo.
When I say, those shops are reliable, I mean that they will wash and iron your clothes, and you will get everything back the next day. That much is assured. However, your clothes may not look as new or as good as they were before going to the laundry.
I have used laundry shops in Pattaya and elsewhere in Thailand, usually when I could not find a self-service laundry around, but every time I ended up getting my shirts back with faded colors.
My solution to this problem is to find a good coin-operated laundry where I can use my own detergent, and fortunately, I have managed to find such services in Pattaya, Bangkok, and Phuket.
Coin-operated Laundry In Pattaya
The laundry machines you see in the picture above are located on Soi 13/2 under the brand name of Otteri. There is a small hotel on this Soi, called 'The Panowla Residence'. Once you find the hotel, you will see the laundry on the ground floor of the building. Soi 13/2 connects Beach Road and Second Road, at a point close to Walking Street.
This self-service laundry is open 24 hours a day, and staff is available to assist new customers up to 10.00 pm. There are a total of four washers and four dryers, and the cost of a wash cycle starts at 30 THB. Dryers cost upwards of 40 THB, depending on the drying temperature you choose.
The money has to be added to the machines in the form of 10 THB coins, which can be obtained from an onboard coin-dispenser.
Detergent Dispenser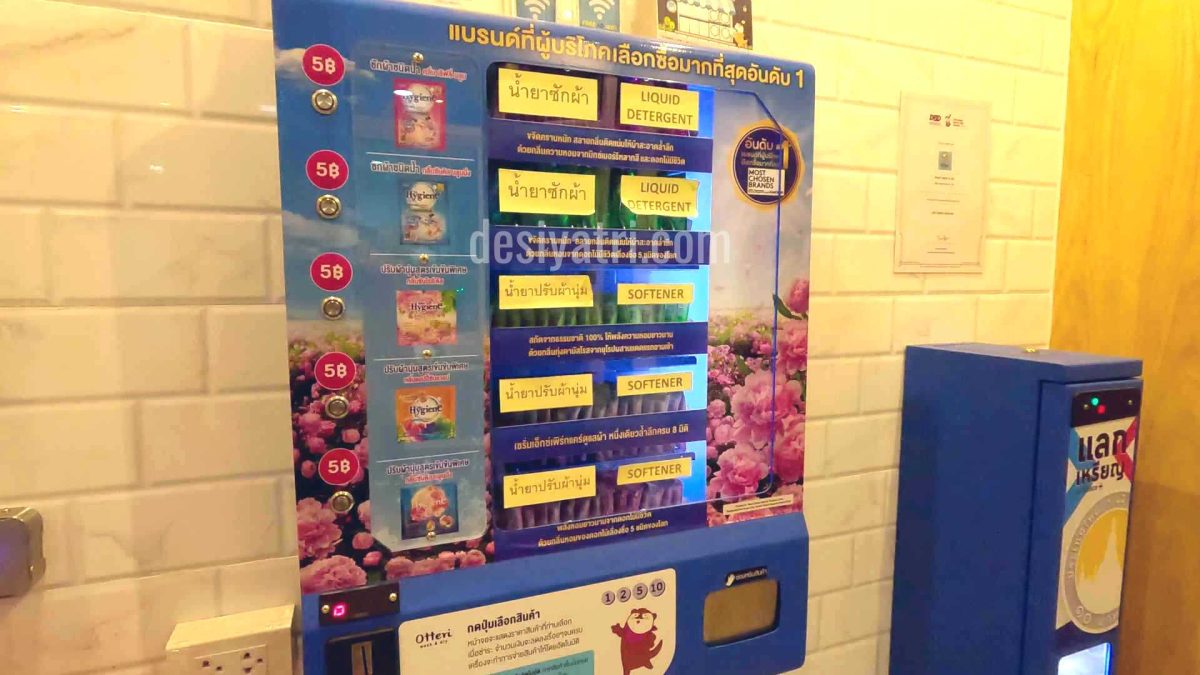 The machines do not dispense detergent, but instead, it has to be added externally by the customer. There is a detergent & softener dispenser in the shop, and each pack of detergent or softener costs just 5 THB.
Using Own Detergent Is An Advantage
These washers needing detergent to be added externally is actually an advantage over the other type of washers that internally inject detergent. You can use a detergent of your choice, and also can run an extra wash cycle without detergent, which serves as an additional rinse cycle. I always do that.
Other Good Things
The laundry has folding tables, ceiling fans to cool the place, and a few chairs for customers. There is even a washroom which is kept locked, but a customer can request and obtain the key if needed.
Ever since I discovered this Otteri branch, I have used it every time I visited Pattaya. I like it, I am sure you will like it too.