If you are traveling to Thailand and thinking of using your ATM card to withdraw Thai Baht during your visit there, you need to read this article. Withdrawing cash from a Thai ATM is a viable option for tourists, but it is not the best option to carry money to Thailand. There are a few reasons for this, and the most important one is the cost. I will explain that, and more…
Related: Shopping Using Credit Cards in Thailand
Availability of ATMs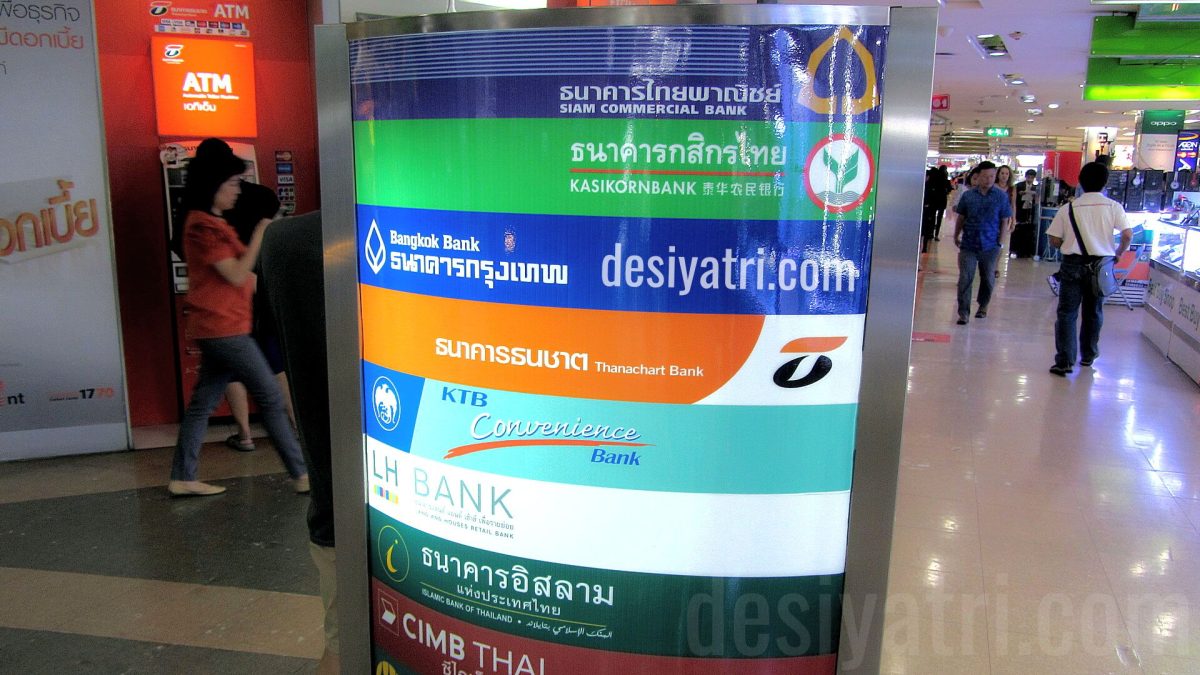 If you are visiting major cities in Thailand, you will not have any difficulty finding an ATM. Shopping malls, convenience stores such as 7-Eleven and FamilyMart, outdoor market areas, and of course, the airport arrival terminals, all have ATMs. However, if you go looking for an ATM, try a large shopping mall first because there, you will have a choice of ATMs of different banks.
A wider choice will help you find an ATM with a higher per-transaction withdrawal limit, possibly lower charges, and also the one that does not force you to opt for dynamic currency conversion (DCC).
What Is Dynamic Currency Conversion?
DCC means that the withdrawal transaction will be reported to your bank as a home currency transaction and not as a foreign currency transaction. However, you end up paying an adverse conversion rate, thereby increasing the cost of the Thai currency that you withdraw. If a Thai ATM forces you to opt for DCC, terminate that transaction immediately and look for another ATM. Read more about DCC Scam here.
Which Cards Are Accepted?
Almost any ATM in Thailand will accept MasterCard, Visa, and UnionPay cards, and most ATMs additionally accept other cards such as JCB, Cirrus, Maestro, Plus, American Express, and Visa Electron.
Withdrawal Limits
Generally, ATMs in Thailand allow a maximum withdrawal of 20,000 in a single transaction. However, there are ATMs with lower (10,000 THB) and higher (25,000 to 30,000 THB) limits per transaction. Subject to your cash requirement and the daily withdrawal limit set by your bank, you should try to withdraw the maximum possible amount in a single transaction. This will minimize the transaction costs.
Withdrawal Charges
Thai ATMs charge a withdrawal fee of 220 THB per transaction (subject to upward revision), and it does not include the charges to be levied by your own bank. The transaction fee is added to the transaction amount, meaning, if you are withdrawing 10,000 THB, it becomes a 10,220 THB transaction.
Total Cost of Withdrawal
Assuming you withdraw 10,000 THB in one transaction using a card issued in India, your total cost of the withdrawal will be more than 7.50%. Here's the calculation:
Thai ATM Fee: 2.20%
Currency markup fee charged by card-issuing bank: 3.50%
ATM withdrawal charges levied by card-issuing bank: 100 THB or 1%
GST charged by card-issuing bank: 0.81% (18% of 4.5)
Total Cost: 7.51%
And if 7.51% seems high to you, there's more bad news. All the charges will get levied on a retail conversion rate, which is always a bit higher than the exchange rate you see on Google. That means, the total cost may be even more than 7.51%.
Avoid ATMs in Scam-prone Areas
If you are in a scam-prone or a secluded area, avoid using your ATM card there. Even if you are careful, and no scam is happening, it is still possible that your card-issuing bank views the transaction as suspect, and blocks your card.
What To Do If Your ATM Card Gets Stuck In A Thai ATM
In the unfortunate event of your ATM card getting stuck in a Thai ATM, your best option will be to find the nearest branch of that bank and ask for help. Also, put a temporary block on your card using your bank's mobile app, while you wait for the Thai bank's response. If they say that you will get your card back, you may like to wait. If you do not have time to wait, permanently block the card and move on.
I will add more info and some useful links to this article soon.
Please share your experience of withdrawing money from an ATM in Thailand via the comment form below. Thank you for reading.
Related