If you have ever visited Amritsar, my guess is that you have tasted an Amritsari kulcha. You can't miss it there. The area around the Golden Temple has several eateries exclusively serving this local delight. Some of those eateries remain open well past midnight, and even when they finally decide to close for the day, there are still customers waiting for their orders to be served. Such is the popularity of Amritsari kulcha, among both tourists and locals.
If you are wondering what an Amritsari kulcha is, I will make it easy for you. It is a stuffed tandoori naan, which likely originated in the kitchens of Mughal emperors. Amritsari kulcha is perhaps the simplest version of stuffed tandoori naan. It is made using refined wheat flour which is turned into a soft dough using water and some kind of fat, usually melted butter or ghee. The dough is then stuffed with spiced mashed potatoes, rolled into the shape of a kulcha, and baked in a medium hot tandoor.
Baking in a medium hot tandoor is absolutely necessary for the kulcha to come out crispy. If the tandoor is too hot, the kulcha will either burn or will come out too soft. The other thing that makes Amritsari Kulcha really crispy is a generous use of dairy-based fat.
A Common Man's Meal in Amritsar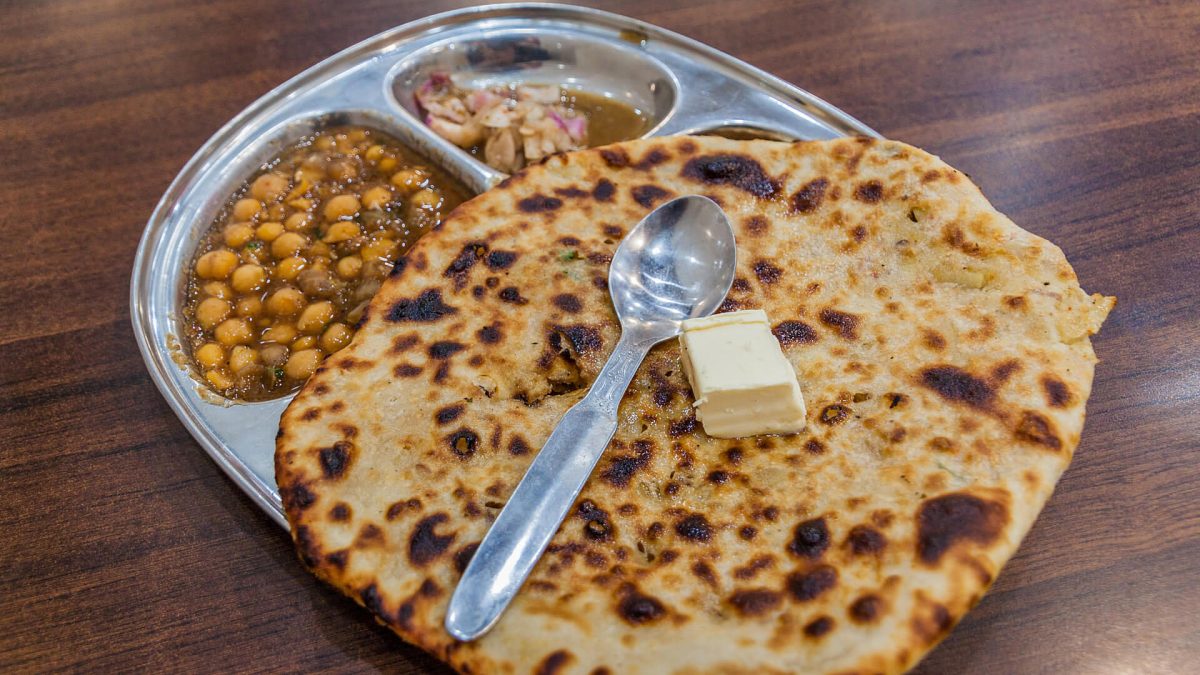 Amritsari kulcha is an affordable and complete meal for the common man. It is served with two accompaniments – a mildly spiced chickpea curry and a tamarind chutney, to which finely chopped onions are added. The chickpea curry (called chholey) is not to be confused with chana masala. Actually, there is very little masala in the curry, and it has to be that way. The kulcha has to be spicy, not the curry.
The two main spices used in the stuffing are crushed cumin and coriander seeds, and these need to be freshly pounded. The rest of the spices are salt, dried mango powder, coriander leaves, chopped onions and green chilies.
A well-trained cook making a kulcha will know these things, and fortunately, a few of them are still there, working the tandoors in Amritsar.
Potato or Paneer Stuffing?
The local name for this kulcha in Amritsar is "aloo wala kulcha," and that is because it is supposed to have a mashed potato stuffing. When you see a kulcha menu, you may also see something called "paneer kulcha." That may sound interesting, but does not taste special. My advice is, if you want to enjoy the real thing, just order the one with potato stuffing.
How Much You Pay
I fondly remember the 1970s, when a nice crispy kulcha along with tasty chickpea curry used to cost just Re. 1. Yes, just one rupee. Now, in 2022, the lowest price for the same combo in Amritsar is Rs. 50. Some establishments charge more, between Rs. 60 and Rs. 250, depending on what kind of clientele the place caters to.
These prices are really cheap because when you order an Amritsari kulcha, the curry and the chutney come as standard accompaniments. You do not need to order or pay for them separately. Also, most establishments will give you extra curry if you need, without any extra charge.
Yes, it's quite a deal, and I wonder if by now you are already thinking of taking a trip to Amritsar, to taste Amritsari kulcha if nothing else. That would be great. Meanwhile, you may like to see this YouTube video on how to make Amritsari kulcha at home.