Even after operationalization of Pakyong airport near Gangtok, the troubles associated with travelling to Sikkim have not reduced. At the time of writing this article, there was only one airline – SpiceJet – that flew to Pakyong via New Delhi or Kolkata, and that too, with a less than ideal reliability.
Apart from the safety-related concerns, SpiceJet's Pakyong flights got withdrawn or cancelled a few times, forcing passengers to buy last-minute expensive tickets for Bagdogra Airport, and then arrange a taxi from there to reach Gangtok. My guess is that unless and until a second airline starts operating to Pakyong, traveling to Sikkim will continue to involve a taxi ride between Bagdogra and Gangtok.
Fortunately, something has improved lately to reduce the pain of that part of the journey.
The WizzRide App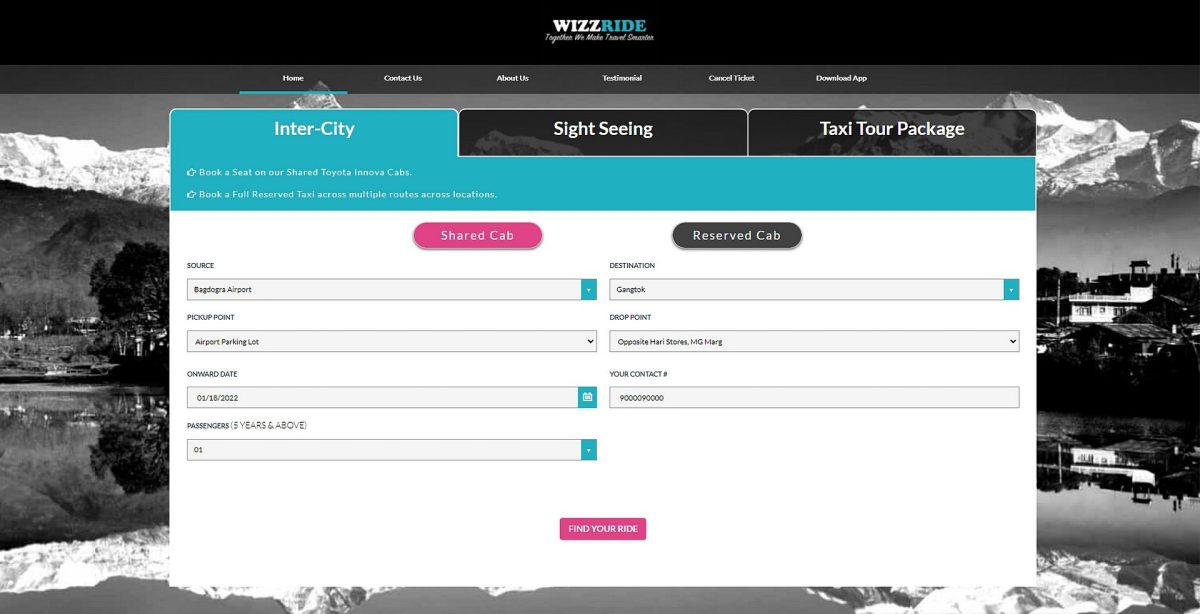 Now, we have WizzRide – a taxi booking app that operates in Sikkim and parts of West Bengal, offering cabs on reserved and shared basis. The WizzRide app is available for both Android and Apple devices, allows secure online payments, has a friendly interface, and stores the record of future and past bookings.
How Much It Costs
WizzRide connects Bagdogra Airport and Gangtok, both ways, using air-conditioned Innova Crysta vehicles and the cost per passenger, when booked on a shared basis, is usually ₹990 including taxes. This cost may be higher during busy tourist season and also otherwise, depending on demand-supply factors.
A particular seat can be selected at the time of booking, subject to availability, and the fare includes carriage of one large suitcase and one small bag per seat. During the trip, each passenger is given a water bottle and a snack, something like a small pack of potato chips. The cab stops a couple of times on the way for restroom breaks and also for food.
Full Car Available
It is also possible to book an entire vehicle, and the last time I checked, a Suzuki WagonR from WizzRide cost ₹3400 for a ride from any Gangtok hotel to Bagdogra airport. Again, this cost may be different depending on the season and demand-supply factors.
Reliability
I have personally used WizzRide from both Bagdogra and Gangtok sides a few times and had a satisfactory experience every time. For each of my bookings, I received the vehicle and driver details one hour before the pickup time. After the message, their staff called me, reminding me of the booking and confirming the pickup place. I received a confirmation call even when I was booked on a 5.00am cab.
Service Timings
For the Gangtok to Bagdogra airport trip, the first cab is available at 5.00am, and for the Bagdogra airport to Gangtok trip, the first cab leaves at 6.00am. During the day, services operate every hour, and there are more than one cabs for certain timings. The last cab leaves from the Bagdogra Airport side at 5.00pm, and from the Gangtok side at 4.00pm. Timings can change, please see vehicle availability information in the app.
How Long The Trip Takes
Each one-way trip is supposed to take approximately five hours. However, due to traffic jams in Siliguri, the actual duration of the trip can be up to 7 hours. If you are going from Gangtok to Bagdogra airport, it is better to leave at least 9 hours before the scheduled departure of the flight.
How To Choose Pickup or Drop Point In Gangtok
The pickup and drop point at Bagdogra airport is the airport parking lot, which is towards the left side when coming out of the airport. For the pickup and drop in Gangtok, you can choose a point depending on the location of your hotel. WizzRide offers the following pickup and drop points in Gangtok:
Ranipool Area
Ranipool Bridge
Ranipool Police Station
Mayfair Hotel
Tadong Area
Entel Motors
CRH Manipal Gate
MP Golai
Govt College
Metro Point
SBI Daragaon
Khangri Petrol Pump
Deorali Area
Amdo Golai
Gurudwara
Forest Office
Sonam Palgey
Namnang Area
Big Bazaar
Pantaloons (close to M. G. Marg)
M. G. Marg
Opp. Hari Store, M. G. Marg
Sadar Police Station
Old Sadar Police Station
Hospital Dara
New Sadar Police Station
North Sikkim Taxi Stand
You have to walk between your hotel and the nearest pickup/drop point. There is no doorstep service for shared bookings.
How The WizzRide App Works
If you are curious to know how the app works, you may watch my YouTube video on WizzRide on this link: https://www.youtube.com/watch?v=ze-KYDfGtA0 (link will open in new tab or in the YouTube app).
WizzRide also operates on other routes in both Sikkim and West Bengal.
This Article Is Not Sponsored By WizzRide
This is not a sponsored article. I am providing information on WizzRide for the benefit of my fellow travelers. Please share your WizzRide experience using the comment form below. Thank you for reading.