There was a time when Geylang in Singapore was infamous as a "different" kind of area. The hotels there were different too, the type that rent rooms by the hour. Well, the good news is that things are a lot less "different" now. The Singapore government has managed to "clean" the streets, and any "different" activity that happens today is confined within the walls of the specially licensed houses located in lorongs (lanes) of Geylang.
Actually, the hotels too are located in those same lorongs, and that can scare a family tourist away. However, there is no real need to be apprehensive about Geylang anymore. Let me show you how a lorong in Geylang looks like. See the picture below:
Lorong 16, Geylang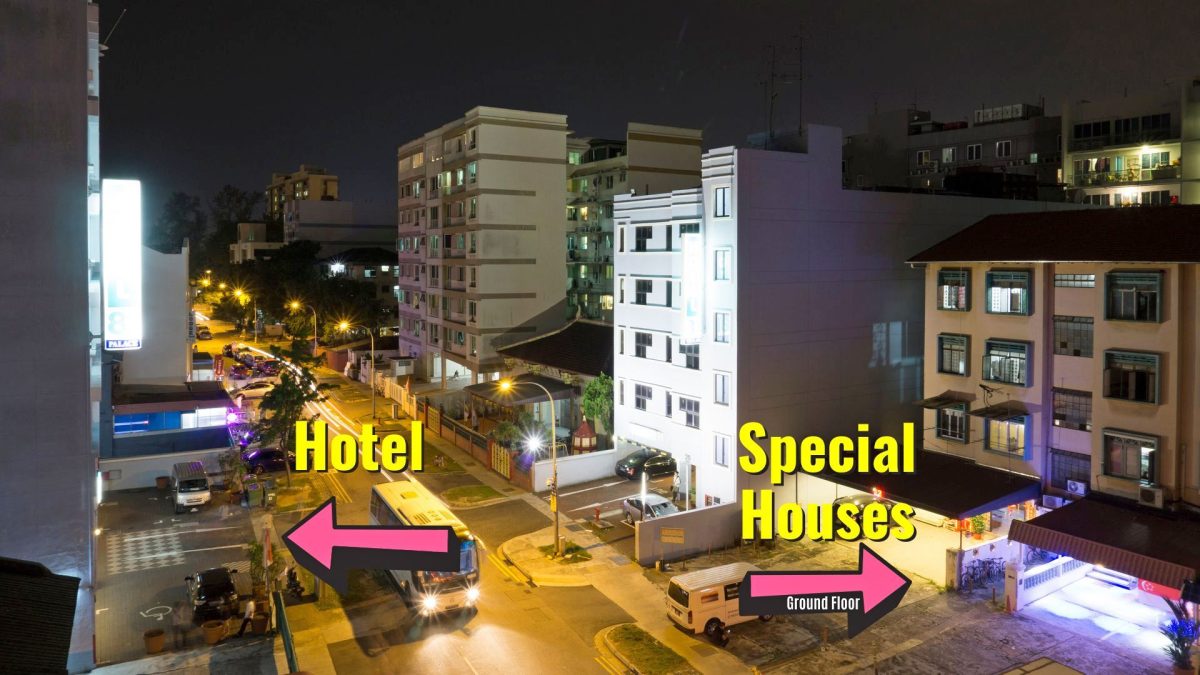 In this picture, you see Lorong 16 with 'Hotel 81 Palace' on the left side and two "special" houses on the ground floor on the opposite side of the road. But otherwise, the road looks normal, well lit, and safe. I can tell you that it is always well lit and feels safe.
I have stayed in many Geylang hotels in recent years (before the pandemic), and always saw couples, families, and even solo female tourists staying in those hotels. Many travel agents bring their tour groups to Geylang hotels, keeping the hotel and the surrounding area lively and safe.
Choose Your Geylang Hotel Wisely
Two major hotel chains having budget hotels in Geylang area are Hotel 81 and ibis Budget. There used to be another hotel chain in Geylang called Fragrance Hotels, but those hotels got rebranded as ibis budget hotels. Fragrance group still has some hotels in Singapore, but none of those are in Geylang area. Ibis Budget hotels are a little nicer and a lot more expensive when compared to Hotel 81 properties in Geylang.
While booking a Geylang hotel, better stick to a chain hotel, and also the one with mostly positive guest reviews. Some travel booking sites, such as Goibibo in India, very cleverly hide negative guest reviews. You need to see guest reviews from popular international booking sites, such as Agoda, to avoid booking a poor quality hotel.
Room Size
The other thing you have to be mindful of is room size. Most of the budget rooms in Geylang are small and can barely accommodate two guests. If you are traveling with children, consider booking a triple room or two rooms instead of one. Accommodating a child with two adults in a budget room will be rather impossible.
What Is Good About Geylang
Geylang area has advantages for tourists apart from low-priced hotels. There are two MRT stations within a walking distance – Aljunied and Kallang – both of which connect to the Airport with one change of train. The main road has local bus stops from where buses are available for most places in Singapore.
There are many restaurants on Geylang Road serving all kinds of food and some of these restaurants remain open 24/7. Vegetarian and some Indian food is also available in a few eateries. In addition, there are 24/7 shops such as 7-Eleven and local grocery stores from where one can buy cheap packaged water bottles, snacks, and OTC medicines such as Paracetamol and Aspirin.
So, if budget is your concern, you may go ahead and book your stay in a Geylang hotel. Other areas where you can find budget hotels in Singapore are Chinatown and Little India. Chinatown is one of the best tourist areas in Singapore, and staying there has advantages, even if you have to spend a few extra bucks. Again, remember to read guest reviews carefully from different websites before deciding on a hotel.
If you have any question or comment, kindly use the comments form below. I will be happy to respond to your queries.