Finding vegetarian food in Pattaya is easy if you are looking for Indian food. However, if something other than Indian is on your mind, you may have to look around a bit. I did look around, and was able to find some vegetarian fast food options on Beach Road.
Before I share the details of what I found, a little clarification is required. When it comes to Indian food, what is vegetarian is an established and well-understood concept. In Indian vegetarian, dairy is allowed, but no egg, meat, or seafood is permitted. But in Thailand, even vegan food joints have dishes with eggs on their menu. There is another problem.
Many times, the ingredients in the food at a Thai restaurant or QSR joint may be vegetarian, but it may be fried or cooked in the same oil, or using the same pot or oven in which non-vegetarian food is also cooked. Let us take the example of a veggie burger. One honestly cannot believe that a restaurant will maintain an extra frying station for a small number of veggie burger orders they receive in a day.
What it means is, there is no guarantee that the so-called veggie food you order in Thailand is actually vegetarian.
Let us now see which vegetarian fast food options I noticed on Beach Road in Pattaya.
Vegetarian Fast Food On Beach Road, Pattaya
1. Veggie Burger From Burger King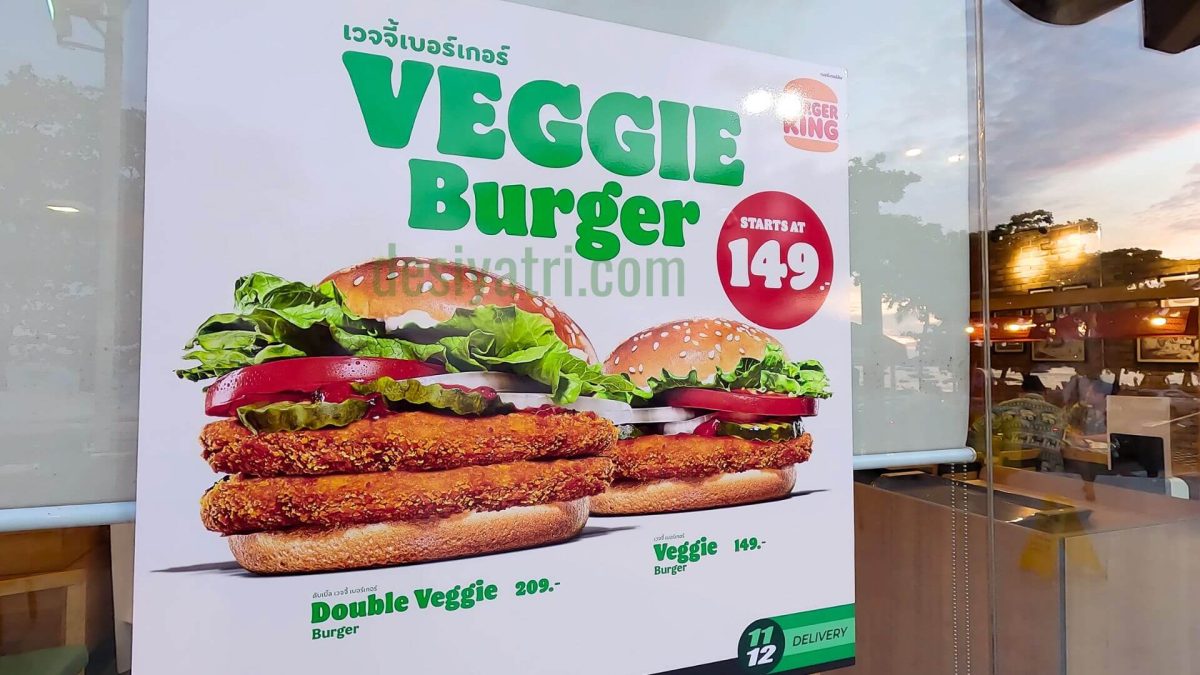 The most visible vegetarian fast food in Pattaya or other big cities in Thailand, is veggie burger from Burger King. The price varies, but I have seen this veggie burger in Pattaya, Bangkok, and even Phuket. The patty is made using potatoes mostly, and qualifies as nothing but junk food. Still, it is probably vegetarian. That is, if it is fried in separate oil. I doubt that, but you never know.
The single patty variant in Pattaya costs 149 Baht and the double patty variant costs 209 Baht. There are some Burger King outlets in Pattaya that operate 24 hours a day, while some others may close sooner. If you are looking for a veggie snack late at night, try going to the nearest Burger King. You may at least get a veggie burger and fries.
2. Veggie Pizza From Pizza Hut and The Pizza Company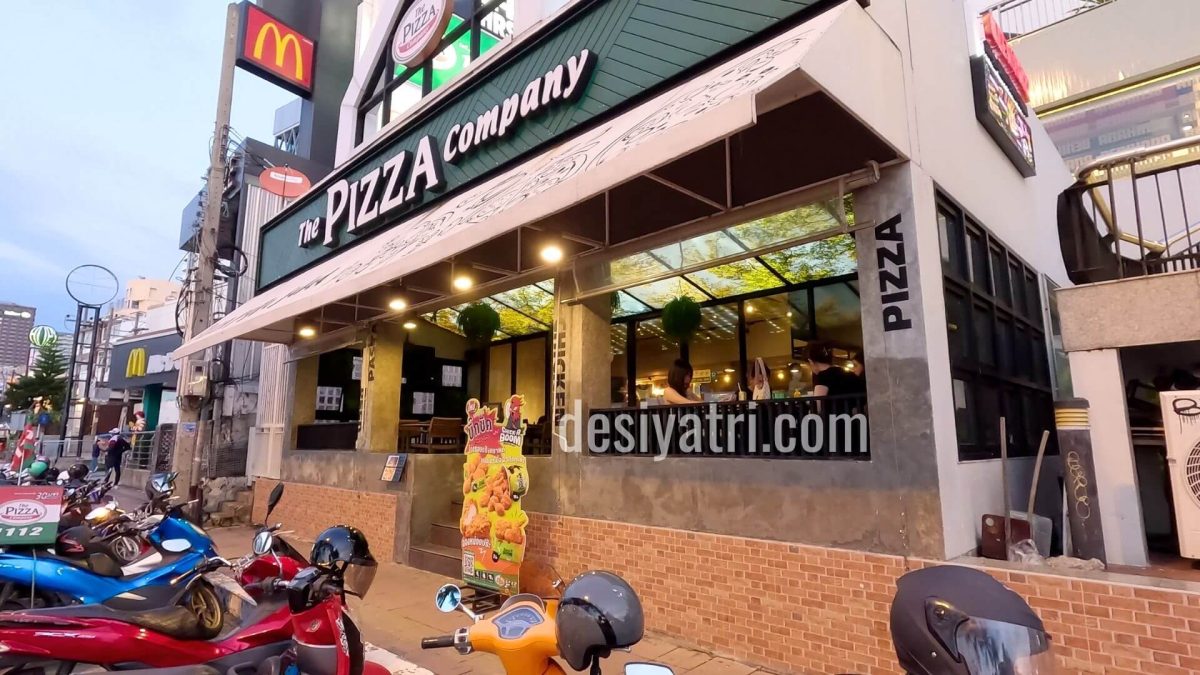 Both Pizza Hut and The Pizza Company in Thailand have veggie pizza on their menus. The Pizza Hut veggie pizza costs 339 Baht for medium, while The Pizza Company charges 359 Baht for a similar offering. Both the companies usually have Buy 1, Get 1 Free offers on veggie medium pizzas. However, BOGO offers may be limited to take-away orders only or when ordered via their mobile app.
I have seen The Pizza Company outlets on Beach Road, and in Terminal 21 Mall. Pizza Hut have an outlet in the Marina shopping complex on Second Road, near Alcázar building. It is also close to Terminal 21 Mall.
Quality-wise, both are good. The Pizza Company use spinach as a topping on their veggie pizza. Pizza Hut, on the other hand, do not use spinach, but there is pineapple. If you do not like either of these, you may tell the staff while ordering.
3. Taco Bell Veggie Tacos
The Taco Bell outlet on Beach Road sells basic and "supreme" tacos with vegetarian fillings at prices starting at 69 Baht. Both variants come with soft or crunchy shells.
Apart from these three restaurants, you may come across some small food counters on Beach Road selling vegetarian rolls, or other Indian vegetarian snacks. The quality of that food may not be up to the mark.
I will update this article in the future, when I see more reliable veggie food options. Please share your feedback or questions using the comment form below. Thank you for your time.